Zebras Control Traffic Stampedes In Bolivia's Capital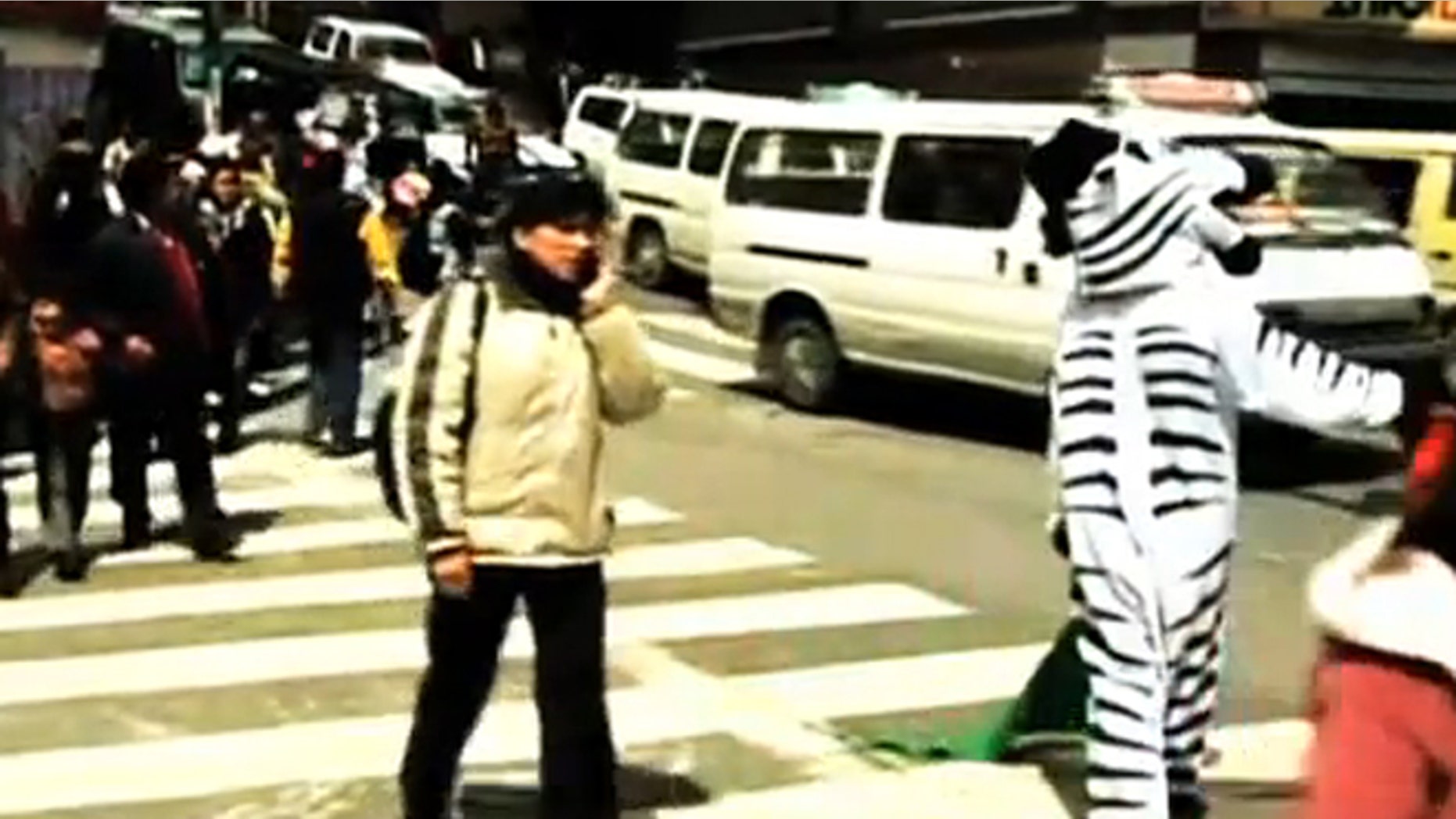 Driving in Bolivia's capital of La Paz is a zoo.
Buses and taxis swerve in and out of traffic, cars blow through stop signs and pedestrians narrowly avoid collisions with crazed drivers careening down narrow side streets. With traffic seeming like a stampede of wild animals, Bolivian officials decided it might take one of their own to bring order to the streets.
Enter the dancing zebra.
La Paz's corp of about 100 dancing zebras – at-risk youths who garb individual, full-body zebra outfits – hit the streets of the world's highest city to help schoolchildren and the elderly make it safely across the street, all while performing circus-like stunts to keep pedestrians and drivers entertained.
The initiative started in 2001, with about 20 zebras hitting the streets in cumbersome two-person suits. Once officials decided that zebras on two legs were safer and more effective than on four the program really took off, with the striped animals easing bottlenecks and helping move traffic along far more effectively than "sanctions, tickets, or coercion," the director of La Paz's cultural office Patricia Grossman to the Christian Science Monitor.
The zebras have become popular off the streets as well, appearing at fairs, festivals events, and lectures at schools against drunken driving. While police sometimes get annoyed at the equine traffic enforcers and claim that they hinder their job, studies indicate that La Paz residents respect and enjoy seeing the wild beasts on the side of the road.
Besides helping ease traffic, the zebras are part of a larger project to help about 3,000 at-risk youth by giving kids between the ages of 15 and 22 city improvement jobs. The zebras, who work only about four hours a day, make about US$57 and get health insurance – not a bad job in a country that has a monthly full-time minimum wage of $93 a month.
"Before becoming a zebra, I lived a messy life," one worker named Rebecca told Sky News. "Now I know our city better and hope to change with it and express myself…Nobody can see my face and my smile, but I can help others and feel truly happy."
Follow us on twitter.com/foxnewslatino
Like us at facebook.com/foxnewslatino