World's Ugliest Dog, Zsa Zsa the English bulldog, dies weeks after winning title
Zsa Zsa, an English bulldog who won the title of "World's Ugliest Dog" last month, has died.
The 9-year-old pooch passed away in her sleep Monday night, her owner, Megan Brainard, told TODAY.com.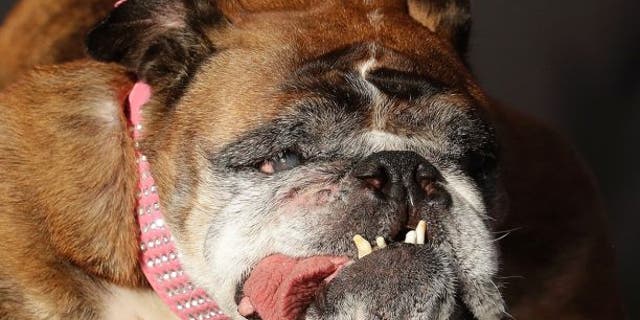 Zsa Zsa won the 30th annual contest in the San Francisco Bay Area on June 23. She was known for her underbite and muscular, rounded front legs. Her owner was awarded $1,500 for Zsa Zsa's win.
WORLD'S UGLIEST DOG TITLE GOES TO ENGLISH BULLDOG NAMED ZSA ZSA
Zsa Zsa was up for the title of Ugliest Dog against some fierce competition: a blackhead-covered Chinese Crested-Dachshund mutt, a bulldog mix with excess wrinkly skin and a Pekingese named Wild Thang.
Organizers of the annual contest say the event is "a fun and silly way to advocate that all animals deserve a safe and loving home."
Brainard, of Anoka, Minnesota, adopted Zsa Zsa after spotting her on Petfinder. The dog had previously been rescued from a puppy mill in Missouri when she was five years old, according to the news outlet.
The dog mom said she named Zsa Zsa after the Hungarian actress Zsa Zsa Gabor, as the pup enjoyed lounging on the couch "like a beautiful model."
Fox News' Amy Lieu contributed to this report.