Will Miami Break Record for Biggest Cuban Sandwich in the World?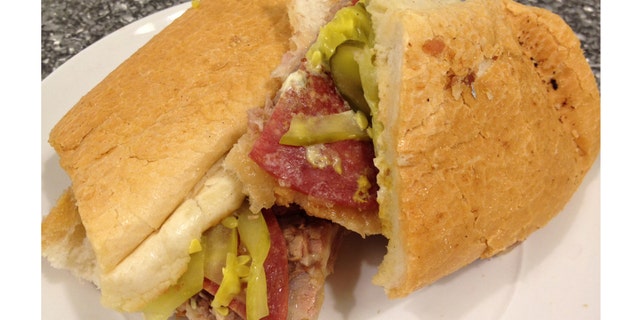 An organization in Miami is trying to achieve what no one has done before: the longest Cuban sandwich ever made.
With 10 pounds of ham, 10 pounds of pork, seven pounds of Swiss cheese and a whopping gallon of mayonnaise and mustard – let's not forget the huge jars of pickles – Miami Granada Florida's Rotary club wants to make it into the history books by putting together a 30-foot-long Cuban sandwich.
"Nobody has ever done a Cuban sandwich record, they've done other sandwiches but not Cuban," Octavio Ramos, president of the organization, told Fox News Latino. "So it seemed like a good idea because Cubans are specifically in this area."
And it's not just to stuff the face of hungry Miamians. They club is doing it for charity.
The rotary club, started in 1986, will donate the proceeds (they hope to raise at least $1,000) to St. Ann's Mission, a Miami daycare center for the children of poor migrant workers.
The rotary club "donated 180 toys to St. Ann's last year and is attempting to donate over 200 toys this year" Ramos said. "We were looking for ways to increase what we normally donate," he added.
The event, which will be held at Lucho's Café in Miami, will have drinks and food as well as a sandwich-eating contest.
Five students from a student civic organization will be on hand to build the 360-inch sandwich while others will be dancing salsa to keep the event lively.
Ramos cooked up the plan to make it into the record books while looking for a unique and celebratory way to raise money for the toy drive.
The owner of the restaurant will oversee all cooking and preparatory details on the colossal sandwich.
"The entire build should take an hour," Ramos said.
Anyone with tickets to the event will receive a free slice of the record-breaking sandwich.
The sandwich Cubano – which would be about the height of a three-story building – won't be the only record broken at the event. Five high school football players from Belen Jesuit Preparatory High School in Miami will attempt to eat a Cuban sandwich the fastest ever recorded and set another first-time record.
"We figured why not break as many records as we can" said Ramos.
Follow us on twitter.com/foxnewslatino
Like us at facebook.com/foxnewslatino