Westminster Dog Show Welcomes Xolo, the Latest Dog Rock Star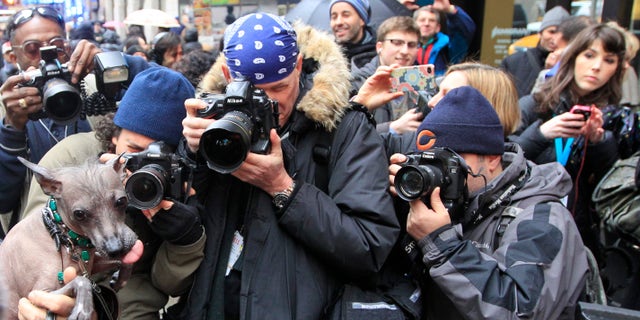 With all the dog celebrities at the Westminster Dog Show (think Martha Stewart's Chow Chow), there is one dog getting rock star status this year: the Xolo.
The xoloitzcuintli, one of six new breeds welcomed at the 136th Westminster Kennel Club dog show, has managed to steal the spotlight at a dog show all about frills. Mostly because of its name.
"They are exotic," said Jose Barrera a jewelry designer to the stars who is showing off another gem at the dog show: his tiny, trembling xolo called Alma Dulce.
Step Back furballs, Xolo Comes to Westminster
"You can't take her for a walk around the block without someone stopping you to ask, 'What is that, how do you spell that?'" he said.
Commonly known as a Mexican hairless, and featuring oversized batlike ears, they're pronounced "show-low-eats-QUEEN-tlee." That's according to Amy Fernandez, an expert who's written books about the breed.
"We go around with little cards at shows telling people how to say it. Otherwise, you would lose your voice doing it every time," she said.
Fernandez planned to enter two of her xoloitzcuintli in America's most distinguished dog show. There are 10 ready to compete, though little Alma Dulce will sit out this time at only 2½ years old.
Past Westminster Dog Show Contestants
The "show-low" expected to show best at Westminster is Georgio Armani, the first xolo to win best in show at an American Kennel Club event. Giorgio Armani drew cheers from the fans crowded around the ring when he was picked as the best of his breed Monday. He turns 2 this month and his win came at a fitting time — it's Fashion Week in New York City.
"As magnificent a dog of any breed that we might see," praised David Frei, longtime television host of Westminster.
This year's six new breeds to Westminster are the xoloitzcuintli, the Entlebucher mountain dog, the Norwegian lundehund, the American English coonhound, the Finnish lapphund and the Cesky terrier. Watching any of them win would be a surprise — it's taken more than a quarter-century for any newcomer to take the top honor.
Seeing any xolo is pretty rare, be it in the nonsporting group or anywhere else. Sporting an Aztec name that meant "dog of the gods," the xolo dates back 3,000 years, Fernandez said.
"An ancient, primitive breed," she said.
Fernandez said there are about 2,500 purebred of them in the United States. They were able to meet the AKC criteria for recognition — an ample number, a good geographic distribution in the country and a parent club to set proper standards.
A xolo can range from about 10 to 24 inches high, weigh from 10 to 50 pounds and have hair or be hairless. Their skin is very warm, and once was believed to provide healing power to humans in chronic pain who slept next to them.
Barrera certainly is having fun with Alma Dulce. He brought her to a recent dog event with an attractive turquoise necklace and a little tuft of hair atop her head.
"I didn't even realize you could get a xolo in the present day," Barrera said. "I looked at breeds from A to Z. This was the X factor."
Based on reporting by The Associated Press.
Follow us on twitter.com/foxnewslatino
Like us at facebook.com/foxnewslatino