Wedding guest sparks debate over 'cheap' leopard-print mini dress she wants to wear to the reception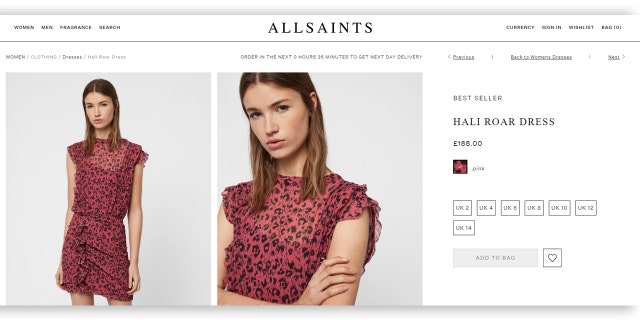 NEWYou can now listen to Fox News articles!
A woman's pink leopard-print dress which she plans to wear to a wedding reception has been branded "cheap" online.
The wedding guest shared a photo of the frock, explaining she'd "fallen in love" with it.
Asking opinions on Mumsnet to see if it's suitable, people branded the mini-dress "cheap," not "dressy" or "special" enough.
RISQUÉ 'MOTHER OF THE BRIDE' DRESS GOES VIRAL ON TWITTER, GETS MERCILESSLY TEASED
The unnamed woman tried to explain the dress wouldn't be that short on her, as she's only 5"4.
She said: "I'm out shopping for a new outfit for a wedding reception I'm going to in a couple of weeks and have fallen in love with this dress.
"Do you think it's ok for a wedding reception?
"It's not as short on me as it is on the model (I'm only 5ft 4). I was thinking I would wear it with black tights and ankle boots.
"The reception is at a bar/restaurant so not a particularly fancy affair I'm guessing?
"It's a nice bar! But not super posh."
The dress she's fallen for is the Hali roar dress, from All Saints, which costs a whopping $248.50, but promises to "add a touch of the 80s to your wardrobe."
CLICK HERE TO GET THE FOX NEWS APP
Despite the hefty price-tag, people didn't think it was suitable.
Commenting, one person said, "Hmm, it doesn't seem special enough with black boots and black tights but I like making an effort for weddings as I never get dressed up other times.
"Where's it from, looks a bit cheap in the photo."
Another person said: "It's a nice dress but I don't think wearing it with tights and boots is really 'dressy' enough for a wedding - even if it is just the reception."
Hitting out at the critics, the guest added, "Doesn't look particularly cheap in real life and the ruching hides all sorts of sins!"
FOLLOW US ON FACEBOOK FOR MORE FOX LIFESTYLE NEWS
Not everyone thought the dress was a no-go, with one person suggesting how to jazz it up.
They said: "It's a nice dress and would be fine for a low key reception.
"I would go with sheer tights and heels as opposed to black with ankle boots."
This story originally appeared on The Sun. Read more content from The Sun here.