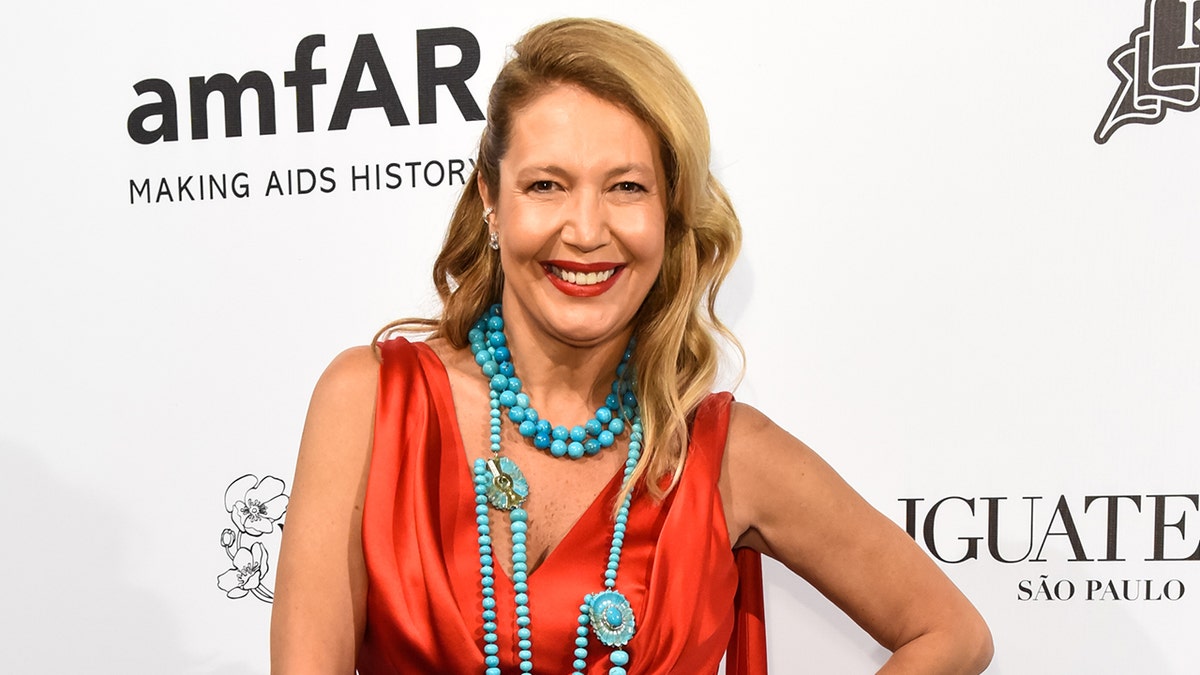 Vogue Brazil style director Donata Meirelles has resigned from her plum position after "slavery"-themed photos from her recent birthday party surfaced online, causing international uproar.
In recent days, images from the editor's 50th birthday bash in Salvador de Bahia hit the internet and soon went massively viral online. In a series of images, Meirelles and her glam guests are all smiles as they pose in a white wicker "throne" chair, flanked by black women in "traditional garb" in an apparently designated photo shoot space, the Huffington Post reports.
According to the BBC, other images from the party detail the traditionally dressed Afro-Brazilian women "welcoming and ushering guests." In addition, the controversial throne-style chair itself is said to resemble a "cadeira de sinhá," or seat for slave masters, as per the outlet.
KATY PERRY, AND PERRY'S BRAND, RESPOND TO SHOE COLLECTION BEING LIKENED TO 'BLACKFACE'
Furious Twitter users have since shared images of Brazilian "house slaves" from centuries past, likening the attire of the women in photos from Meirelle's party – with clear intersection.
A former American Vogue staffer told HuffPost that the imagery indeed appears to suggest a "Brazilian slave and master theme."
"Hey @CondeNast, Donata Meirelles, the director of Vogue Brazil, had her birthday party inspired in 'Brazil Slavery Colonies' and even had black models dressed as slaves to use as photo props. Asking for a friend: does this align with your company's values? #VogueRacista" one critic clapped online.
Both Meirelles and reps for Vogue were quick to express apologies for the incident.
On Feb. 13, the style editor announced her resignation from the world-famous publication, HuffPost reports. Taking to Instagram, Meirelles apologized for the incident in a now-deleted Instagram post, detailing that there had not been an intended theme set for her birthday party, the women were sporting "traditional Bahian dress," and that the throne was meant to pay ode to the Afro-Brazilian tradition of Candomblé.
FOLLOW US ON FACEBOOK FOR MORE FOX LIFESTYLE NEWS
"Even so, if I caused any different impressions, I am sorry," she concluded in the now-deleted post.
"At age 50, it's time for action. I've heard a lot, I need to hear more," Meirelles wrote in a follow-up message, later shared to the platform.
Reps for Vogue Brazil also spoke out on Instagram.
"Vogue Brasil deeply regrets what happened and hopes that the debate generated will serve as a learning experience," the fashion brand wrote online.
CLICK HERE TO GET THE FOX NEWS APP
Moving forward, reps for Vogue's parent company Condé Nast International have announced that they are "aware of the hurt and dismay caused by images of the private birthday party of Donata Meirelles, Style Director of Vogue Brazil," and that they are committed to doing better, as per the New York Post.
"Vogue Brazil has set up a working group of scholars and activists that will help the team to more deeply understand the history of slavery and the lasting pain it has left behind," the company said. "We have zero tolerance for racism and images evoking racism. Condé Nast International is a force for positive societal change and stands for diversity and inclusiveness."