Utah firefighter adopts stray dog he rescued from California wildfire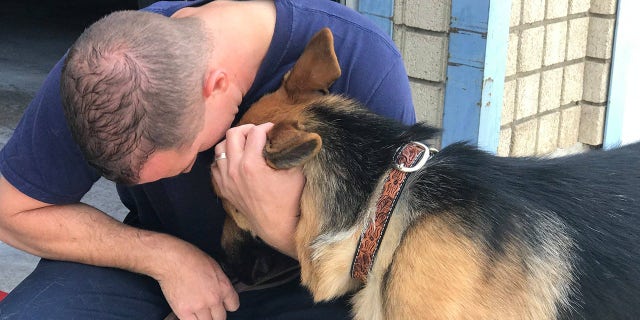 One German shepherd puppy has found a forever home with a Utah firefighter who rescued him from the Mendocino Complex wildfire in California.
On August 28, KTVU reported that Draper City Fire Department member Patrick Cullen had been in Mendocino County to battle the massive blaze in August when he crossed paths with the 2-year-old pup, in the middle of the night.
"I was running the pump at the engine. Kind of hear something or feel something and all you see is a few eyes and I thought, oh, me and a lion mountain. This will be fun," Cullen recalled.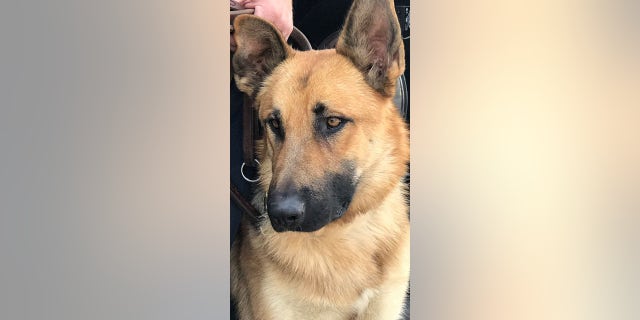 Bounding out of the darkness, instead, came a stray dog.
"I could tell he was super tired and he had clearly been out there a long time. He was pretty tired and weak and thirsty," Cullen told KSL. "So we gave him a big drink of water and he slept under the engine for the next three hours."
EMOTIONAL SUPPORT DOG MISSING AFTER LATAM AIRLINES FLIGHT
The Draper City firefighters dubbed the dog "Mendo" after the Mendocino Complex blaze they were battling, and the name stuck. It became too dangerous for the crew to keep Mendo as they fought the fire, so they gave the dog to the Mendocino Animal Shelter, KTVU reports.
"If by some chance you don't find anybody, I doubt you won't, or someone won't come forward, here's my number," Cullen told the animal shelter staffers, as he left his phone number.
No one came forward to claim Mendo, and Cullen received a call from the shelter on August 27.
"It was so heartwarming, and Mendo recognized Patrick right away and there was no doubt that this was truly truly meant to be," volunteer Chandra Brouilette told the outlet.
The adoption marked an emotional moment not just for Cullen, but the entire Draper City Fire Department. Tragically, Battalion Chief Matt Burchett lost his life fighting the blaze and the fire crew returned home to Utah one crew member short, KSL repots.
FOLLOW US ON FACEBOOK FOR MORE FOX LIFESTYLE NEWS
Moving forward, Cullen said that adopting Mendo is the silver lining to an otherwise heartbreaking story.
"There's definitely meaning not only for me but a lot of other people, including the other firefighters that were there. People already want him to come to their station," he told KSL. "Everyone that was there, they're excited. It definitely brings some sort of happiness to a terrible event that happened."