Unable to Go Home, So Bringing Piece of Mexico to California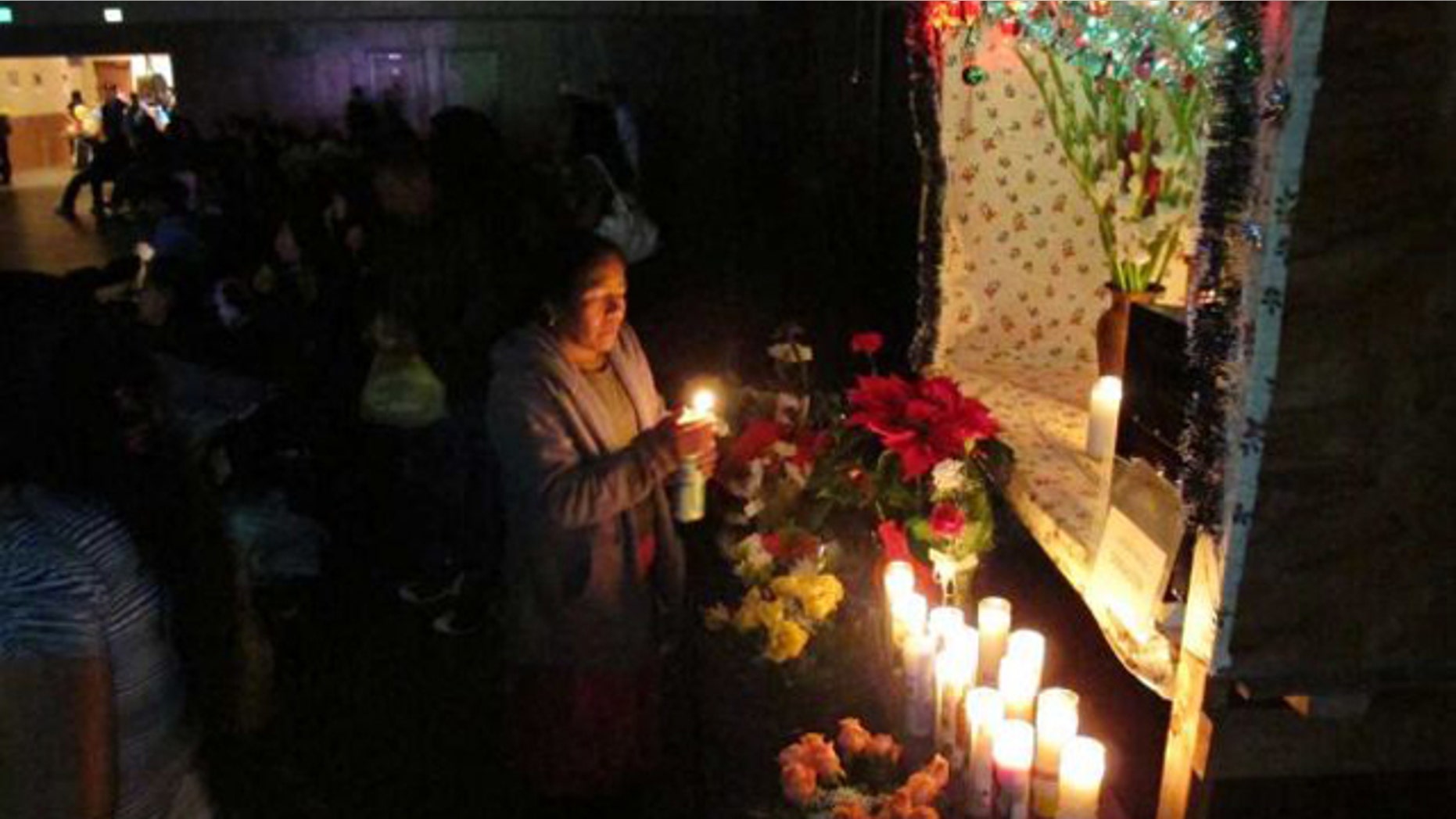 They couldn't return to Mexico, so they brought a piece of Mexico to California.
Zapotec Indians in Central California used their hands to build a mud oven to roast hot peppers, garlic and onions in the backyard of their home.
They spent the night cooking, and by morning had enough thick, chocolaty sauce called mole negro to feed hundreds of farmworkers who would stream in from across California and as far as Washington and Oregon to celebrate St. John the Evangelist, the patron saint of a Mexican village more than 2,000 miles away.
Zapotecs who worked in California once travelled back home to Coatecas Altas and other villages in Oaxaca to attend these fiestas. But as border security tightened and illegal crossings turned expensive and dangerous, many of them found a way to honor their saint stateside, in the small farmworker town of Madera.
For the third year in a row, Zapotecs gathered in Madera in the days after Christmas, cooking and eating mole, building an altar, parading giant paper-mache dolls and dancing into the night to brass bands belching out traditional chilenas. The fiesta takes place over several days, simultaneously with that in Oaxaca.
"This is about community service, about coming together to help and support each other," said Alfredo Hernandez, a volunteer from Madera who helped organize the celebration. "It's important for us not to lose our culture. And since we can't go back, we do it here."
Zapotec is one of the two largest linguistic Indian groups in Oaxaca, and its people are among the newest wave of U.S. migrant workers. In California, an estimated 30 percent of farmworkers are now indigenous, according to the U.S. Labor Department.
In Oaxaca, the Zapotecs lived for more than 2,000 years cultivating corn and beans, adhering to a practice of mandatory community service and specializing in crafts. Tucked in the mountains, Coatecas Altas known for intricate baskets and mats hand-woven out of wild palm leaves.
But over the past few decades, their way of life collapsed. Facing an economic crisis in their country, a flood of cheap American corn brought about by the free trade agreement and declining government support for small farmers, Zapotecs began to migrate for better opportunities, said Sara Lara Flores, a sociologist at the National Autonomous University of Mexico who has studied Zapotec migration.
This is about community service, about coming together to help and support each other. It's important for us not to lose our culture. And since we can't go back, we do it here.
Those who moved north of the border prior to the 1980s settled mainly in Los Angeles, but the past decade saw Zapotecs streaming into rural Central California to work in the fields.
Juan Santiago, a student at California State University in Fresno, started the fiesta in Madera to help organize his community. Santiago, 23, came to the United States with his mother when he was 11, joining his farmworker father and four brothers in Madera. He is the first member of his family to graduate from high school and go to college.
Life in California poses tremendous challenges to his people, Santiago said.
In Madera, where 77 percent of the 61,000 residents are Hispanic, the Zapotecs have faced a double language barrier with English and Spanish, and experienced a double culture shock.
Many of area's 5,000 Zapotecs are young people who lack basic education and live in poverty, having few job options without legal immigration documents, Santiago said. In the fields, Indians often get paid less than other Latinos.
Three years ago, Santiago organized the Zapotecs' first community assembly in Madera and was elected its president.
One of his first orders of business was to transplant the practice of community service. That volunteer work, he said, gives young people something productive and positive to do and encourages leadership.
Community work is key to the survival of the migrants, Flores said.
"This celebration allows for the ties of solidarity and mutual help that characterize indigenous people to be reinforced," she said. "It helps them face the atmosphere of hostility and intolerance that many encounter."
The fiesta, which included a run from Fresno to Madera and a basketball tournament, also promotes the Zapotec culture and language among the youngest generations, which are quickly becoming Americanized, Santiago said.
On the day of the fiesta, after attending mass, more than 1,000 Zapotecs crammed into a rental hall at the Madera Fairgrounds. They prayed, lit candles and placed bouquets of flowers before a mobile altar of St. John the Evangelist, made to look just like the one in Coatecas Altas.
Giant paper mache dolls danced under a ceiling filled with papel picado, colorful wafer-thin paper banners hand-cut into elaborate designs. Platefuls of mole and cups of tepache, a fermented pineapple drink, were handed out to the crowd.
At the end, in a special ceremony, Santiago and fellow committee members passed four ceremonial staffs to newly elected committee members and volunteers, who will continue the tradition of community service for the next three years.
Based on reporting by The Associated Press.
Follow us on twitter.com/foxnewslatino
Like us at facebook.com/foxnewslatino