Two U.S. dogs sniff out snails that plague Ecuador's Galapagos Islands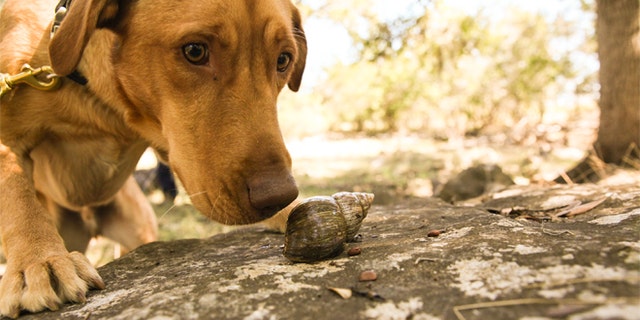 QUITO, Ecuador (AP) — – When Darwin the Labrador retriever crashed out of a service dog program for people, conservationists found him a very different sort of job: sniffing out giant African land snails that are threatening crops on the most visited of Ecuador's Galapagos Islands.
The pooch even has the perfect name. English naturalist Charles Darwin studied the archipelago's endemic species during a visit in 1835 that helped develop his theory of evolution.
The gold-colored Darwin and his pal Neville, a black Labrador rescued from an animal shelter, traveled in December from Texas to Santa Cruz, the island in the chain visited by tourists. The dogs were selected to hunt the mollusk, which is the largest species of snail found on land and can grow to 20 centimeters (7.8 inches) long.
The dogs were donated by a U.S. organization called Dogs for Conservation, which trains canines to help people working to preserve wildlife. Darwin and Neville are still being trained, but have already begun their work sniffing out snails and their eggs, which are then removed by environmental workers.
The Dogs for Conversation website, which told of the unsuccessful attempt to make Darwin a service dog for humans, said he has found new purpose working in conservation. "He's more than qualified to be a service dog to nature," the site says. It says Darwin didn't work out as a therapy dog because he was too hyperactive, but his work as a sniffer dog has helped him became calmer and more focused.
It's the first time dogs have been called on to help protect the environment in the Galapagos archipelago. The 19 islands and the surrounding marine reserve are considered by UNESCO, the U.N. educational organization, to be a World Heritage Site in danger because of risks caused by human development.
Martin Espinosa, interim director of the Galapagos Biosecurity Agency, said the snails are among the most invasive species in the world, can harm other species and the ecosystem, and transmit diseases to humans.
In the past, workers for his agency ventured out in the rain at night to hunt for the snails with limited success.
The plague currently affects some 20 hectares (about 50 acres) on Santa Cruz, including banana, pineapple, carrot, tomato, pepper, cassava and coffee crops, damaging the food supply for island residents. The giant snails are not found on the archipelago's other islands.
Galapagos environmental authorities hope to have eight dogs working in seaports and airports by 2017 to help block the arrival of additional invasive animal and plant species.
Initiatives using sniffer dogs to prevent the introduction of invasive species into niche ecosystems also exist in countries including Mexico, Chile, Australia, New Zealand and the United States.
Reporting by the Associated Press.
Like us on Facebook
Follow us on Twitter & Instagram