Twitter users celebrate unlikely relationships with viral 'handshake' tweets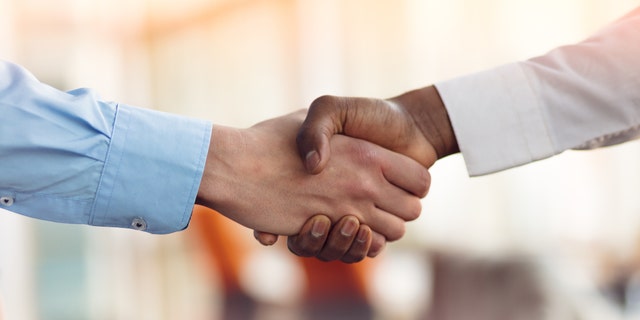 Though the world of social media can often be a divisive place, Twitter users are uniting on a positive note with the so-called "handshake" tweets. In a now-viral series, Twittizens are likening two seemingly dissimilar things with a common denominator, and cracking each other up in the process.
According to culture site The Daily Dot, the handshake saga began with a meme that hit the Internet in August. It was an image of a four-person wrist hold, illustrating that "potatoes" are enjoyed by "celiacs, vegetarians and vegans, drunk people, fussy eaters" alike.
WOMAN USES TINDER DATING APP TO CAMPAIGN FOR DEMOCRATS: 'IT'S BETTER THAN BEING ON TINDER FOR REAL PURPOSES'
For reasons that remain unclear, the "handshake" meme has come roaring back to life in recent days — this time, united by the handshake emoji.
Likening Taylor Swift to Lord Voldemort, and post-World War I artists to fourth-grade daydreamers, the silly series has racked up hundreds of thousands of combined likes on the social platform.
FOLLOW US ON FACEBOOK FOR MORE FOX LIFESTYLE NEWS
In the interest of those seeking a good laugh, hopefully this silly series won't go out of style any time soon.