To Battle $2 Billion in Piracy, Mexico Tries Shaming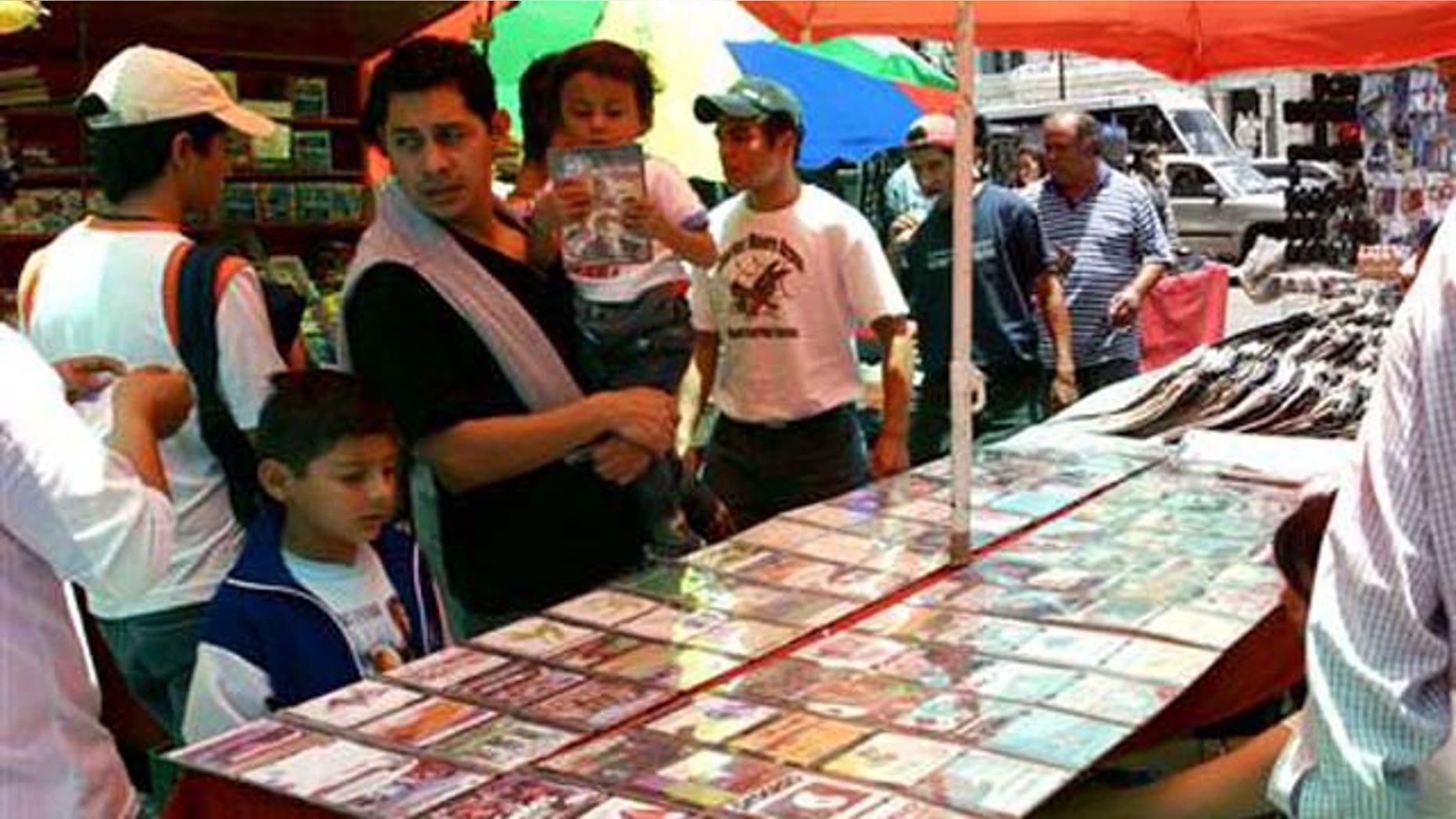 At a street stall outside a high-end Sanborns department store in Mexico City, shoppers browse Hollywood's newest releases, movies that haven't even made it into the country's cinemas. The stand is one of thousands in this city and a glaring example of the country's losing battle against piracy.
Inside the store, older movies cost as much as 280 pesos, or $24. At the stall, the latest flicks cost just 15 pesos, or $1.30. It's a bargain few can refuse, says the salesman.
"Everyone buys here," said the man, who asked that his name not be used. "Even people from the movie business—producers, directors, actors."
That's heart of the problem, say critics: Mexicans don't generally view piracy as a crime, although the creation, distribution and purchase of fakes is criminalized in Mexico.
Now, the industries most under attack, including the film and software industries, are taking their fight directly to buyers by alternately shaming and educating them into shunning pirated goods.
Piracy, they say, needs to carry the kind of social stigma it has in other countries.
The Mexican movie industry is recycling a "social shame" campaign this year that includes anti-piracy spots in movie theaters and in original DVDs. The nonprofit Business Software Alliance, which represents global information technology companies, is working directly with business associations nationwide to educate business owners about the harms of buying pirated software.
"We are not going to be successful until we educate people," said Federico de la Garza, director of Mexico's Motion Picture Association. "And that is the toughest work we have in front of us."
A 2009 study of affluent consumers by the American Chamber of Commerce in Mexico  revealed that while 58 percent of respondents said they viewed piracy negatively, a full 88 percent still purchased pirated goods.
Piracy is widespread in Mexico. Nine out of 10 DVDs purchased in Mexico are pirated, nearly maxing out the market. But the real growth has moved online: Last year, there were 96 million illegal film downloads, up fourfold from 24 million downloads in 2009.
CANACINE, Mexico's movie industry association, is pushing a campaign that aims to stigmatize the buying of pirated films by linking their purchase to values. One commercial has two teenage girls chiding another that she has a "pirate dad" because he bought pirated movies. Another shows a job candidate flopping an interview when the boss sees a pirated movie slip out from between his papers.
"Pirated movies say a lot about who you are," the spot says.
Mexico's film industry lost $340 million to piracy in 2009, the latest statistics available from the Mexican Institute of Industrial Property. The music business lost $400 million that same year. The software industry, meanwhile, lost $1 billion in Mexico to piracy in 2010, according to the international Business Software Alliance; 60 percent of the market is dominated by illegal software.
"We are trying to convince people that buying illegal software and using it does have consequences," said Kiyoshi Tsuru, Mexico manager for the BSA. "We need a better IT market for Mexico because this means better jobs for everyone and a better competitive position for the country as a whole."
Gustavo Fondevila, an expert on piracy with CIDE, a Mexico City-based think tank, contends that the fight against piracy has to take into account the country's historic inequality. Piracy, he says, essentially plays an important role in societies with "so much social exclusion and so much social difference," such as Mexico.
"In general terms, it's not something that Mexicans view as really morally reprehensible," he said.
Lauren Villagran is a Mexico City-based journalist.
Follow us on twitter.com/foxnewslatino
Like us at facebook.com/foxnewslatino