Texas bar becomes Moe's Tavern from 'The Simpsons' for Halloween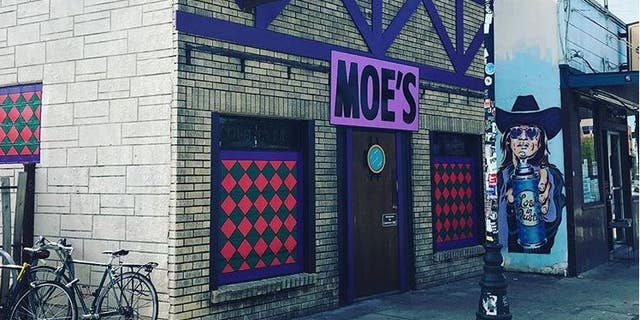 "Whaaaaaaat?" A Texas bar is now the spitting image of Moe Szyslak's iconic tavern from "The Simpsons" — and owner Travis Tober credits his "regulars" for inspiring the idea.
A few months ago, bartenders at Nickel City in East Austin compared the establishment to the local watering hole in the animated series. After pulling up a picture of Moe's Tavern online, Tober had to agree.
"It looks exactly like the logo that we use on our postcards to give away," Tober told Fox News. "So, I figured it wouldn't take that much to actually change it."
HORSE BREAKS FREE FROM RACETRACK, HEADS TO BAR
https://www.foxnews.com/food-drink/horse-walks-into-bar-france-chantilly-racecourse
The Texan quickly got to work, reaching out to local designers and businesses to transform the bar just in time for Halloween.
"We pretty much tried to keep it a secret from everybody," Tober said. "We do goofy stuff like this all the time. They never know what to expect "
US TROOPS DRINK ICELAND CAPITAL'S BEER SUPPLY IN ONE WEEKEND
After roughly two to three weeks of renovations, including adding "Simpsons"-like items to a revamped menu, the bar was ready for fans to enter.
The new menu lists several "Duff" beers and booze-filled "Squishees" for patrons to choose from. The Pumpkin Spice Frozen Irish Coffee and Orange-ish Squishee are among Tober's favorites, though the Flaming Moe — a gin-based cocktail — is also a popular pick. Customers can also order doughnuts with pink sprinkles (Homer's go-to snack) provided by the new food truck Republic Donuts.
Locals can't help but rave about the newly-themed bar.
"The last three days have been the busiest it's ever been. We're pretty busy generally speaking, but it's just getting crazy right now," Tober said, noting the bar opened in the city a little about a year and a half ago. "It's definitely been a huge push to the bar."
FOLLOW US ON FACEBOOK FOR MORE FOX LIFESTYLE NEWS
Tober admitted it was surreal to watch one of his favorite childhood TV shows come to life.
"I was born in '77. I grew up with 'The SImpsons' ... watched the first 10 seasons," Tober said, recalling the brief period Conan O'Brien was a writer for the show.
After Halloween, Tober said the bar will return to its original state. But next year, Tober said he'll try to top Moe's with another iconic bar.