Taco Bell serves man with horse-drawn cart in drive-thru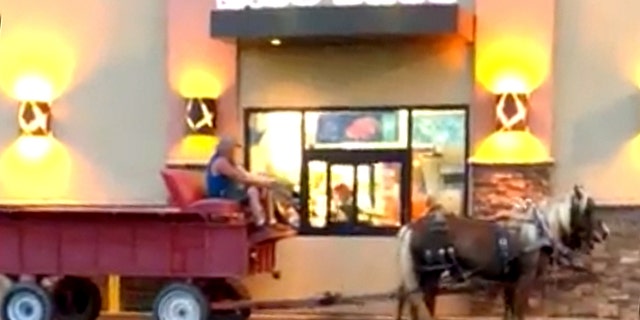 Tally ho — to Taco Bell.
On May 20, one Illinois man arrived in style at a Taco Bell drive-thru, driving two horses hauling a large red cart. Though the equestrian patron has not yet been identified, onlooker Reagen Wilson couldn't resist sharing video footage of the unusual sight to Facebook.
STARBUCKS EMPLOYEES, CUSTOMERS EXPRESS CONCERN OVER NEW POLICY: 'I CAN'T SEE HOW THIS WILL WORK'
"Nothing like a horse & buggie going through taco bell drive thru in litch, the man needed his chew & something to eat!" she wrote of the clip, which has since been viewed over 11,000 times on the platform.
Though the man may have been horsing around, the Mexican-inspired chain's Litchfield location has no qualms serving equine customers. A manager confirmed that the fast-food restaurant will "serve anybody as long as they're not on foot or a pedal bicycle," KDSK reports.
NEW MCDONALD'S JINGLE CREATED BY SAME GUY WHO WROTE 'BUY THE WORLD A COKE'
Though the Illinois man was lucky enough to giddy up and grab a quick taco, other hungry equestrians have made headlines for being turned away.
In March, an Arizona Starbucks drive-thru refused to serve a horse-riding teen. Weeks later, a man in Suffolk, England, was reportedly denied service at the drive-thru of a McDonald's after "trotting up" to the microphone on his horse.
FOLLOW US ON FACEBOOK FOR MORE FOX LIFESTYLE NEWS