Swim England under fire for swimsuit article suggesting slimming styles for 'flabby stomachs' and other body types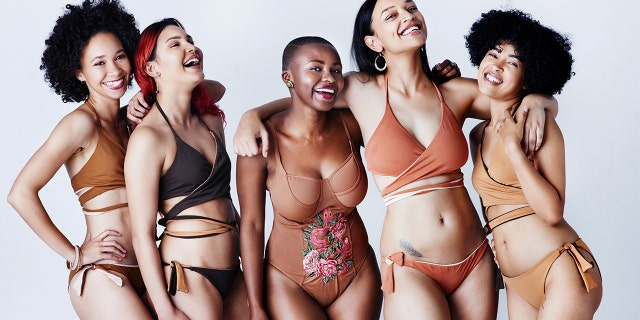 Swim England, the national governing body for swimming in England, is under fire for advice on its website suggesting how women might select swimwear based on the shape of their bodies.
The now deleted article offered suggestions for various body types, including short or long torsos, plus sized, pear-shaped, large or small busted and "flabby stomachs."
"Ensuring you have the right swimwear for body shape is vital. It's important to be honest with yourself or the person you are buying for. It can make a world of difference," the article read, according to Metro.
The advice was brought to light after Simone Webb, a Ph.D. student in gender studies, came across it while searching for swimwear online.
BRITISH WOMAN CLAIMS SHE'S HAD SEX WITH 20 GHOSTS, IS NOW ENGAGED TO ONE
"I was thinking about trying to swim again because I needed to get my cardio exercise up to track and wanted to do something warm and indoors. I was genuinely surprised and shocked that the national government body would have something like this on their website," she wrote on Twitter.
Webb said that while she initially assumed the article would offer helpful information, instead she discovered it heavily focused on women's appearance.
"This is material that @Swim_England is publishing on their website designed to encourage people to take up and enjoy swimming. Material which very explicitly tells women that their bodies ought to look a certain way and that that's the primary aim of a swimming costume," she wrote.
The article, partially reprinted by Metro, suggested that those with a short torso "will want a swimsuit that gives the impression of litheness."
Those with a small bust should "look for a bikini top with triangle-shaped cups and a tie-front" in order to "add curves and subtle cleavage."
For anyone who might be plus size, "you will want to look for swimsuits in darker colors in a plus size, as these colors will have an overall minimizing effect."
Anyone who might have a "flabby stomach" should "choose a loose tankini instead of a bikini or 1-piece" as "bikinis totally expose a jiggly belly, and trying to squeeze into a one-piece will not slim your stomach, only emphasize it. But "don't worry, the Shape Up and Tone program will help you lose any jiggly belly problems."
"I can safely say it doesn't make me feel more inclined to start swimming again," Webb wrote. "Apparently before I start I need to scrutinize my body and work out what flaws my swimming costume should be concealing."
Swim England removed the article and has since issued an apology.
"This was an old web page from 2010 that does not represent the views of Swim England. As soon as the article was brought to our attention we removed the page and replaced the content.
FOLLOW US ON FACEBOOK FOR MORE FOX LIFESTYLE NEWS
"Swimming is one of the most accessible activities for people of all ages and abilities. We want everyone to feel confident and comfortable in the water so they can take advantage of the many benefits swimming has to offer. We apologize for any offense this old information may have caused and hope this won't deter people from continuing to enjoy the water," a spokesperson told Fox News.
The organization also tweeted out the following statement: "We pride ourselves on being inclusive and respectful to all. Earlier today it was brought to our attention that one of our old webpages was neither. This does not reflect our values and we took it down immediately. Thanks to everyone who brought this to our attention. #Sorry."