Sunburn remedies and prevention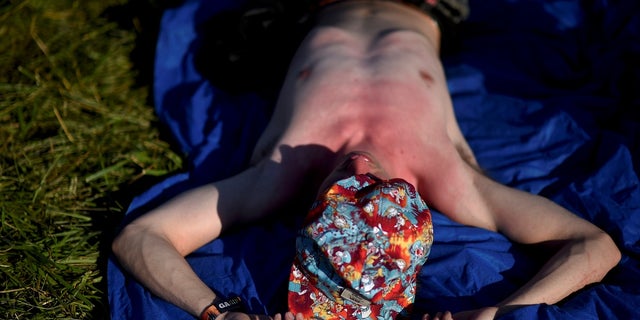 NEWYou can now listen to Fox News articles!
An afternoon of fun in the sun can quickly turn into days of pain and itchiness, if you're not prepared.
The culprit? Sunburn. And it's no laughing matter -- in fact, a Scotland gardener made headlines this week when he sustained second-degree burns from the sun.
"It's torture," Greg Binnie, 20, told BBC Newsbeat. "It's hard to describe the pain. It's like there's a crack in your skin and it's pulsating as well. So there's a constant reminder of the pain but you can't itch or touch it."
If someone has had more than five sunburns, his or her risk of melanoma roughly doubles, the Skin Cancer Foundation says. Melanoma is a less common skin cancer type, accounting for less than 1 percent of cases, but can turn deadly if it spreads to other body parts.
Below is what you need to know about sunburns -- and what you can do if you get one.
What exactly is a sunburn?
It's the body's response to being overexposed to ultraviolet (UV) light.
The Skin Cancer Foundation says that exposure to the sun's UV radiation has been associated with approximately 90 percent of nonmelanoma types of skin cancer - and that the sun also causes most melanomas.
One in five Americans will have skin cancer over a lifetime, according to the foundation.
How does the body try to fight against sun damage?
The body increases the production of melanin, which is pigment that determines the color of hair and skin, according to the American Association of Dermatologists (AAD). It explains that in general, sunburns happen to people with less melanin, while those with more of it may tan.
SCOTTISH MAN BEDRIDDEN FROM SEVERE SUNBURN
With sunburns, skin cells are damaged by UV rays, and the body sends blood to where it has been hurt - so it causes skin to appear red and feel hot, the Food and Drug Administration says. The itchiness and peeling associated with sunburn is a result of white cells getting rid of the cells that have been damaged, according to the agency.
What about tans - are those considered sun damage?
Yes. "There is no such thing as a safe tan," the FDA warns, explaining on its website that a tan is a sign of skin damage.
What can I do to lower my risk of sun damage?
Wear sunglasses and broad-brimmed hats while outside, use a broad-spectrum sunblock with an SPF of at least 30 and avoid the sun from 10 a.m. to 4 p.m., the American Cancer Society advises.
I've already got a sunburn - what should I do?
Some steps include taking cool showers, moisturizing with products featuring aloe vera and soy, and taking a pain medication like aspirin, the AAD says. If you have blisters, do not pop them.
Is there anything people can do to reverse sun damage once it's been done?
"The truth is, the skin has a long memory," dermatologist Dr. Lisa Chipps says on the Skin Cancer Foundation website, explaining that sun damage is "more or less permanently recorded in it." She suggests using a topical retinoid like tretinoin and trying laser treatments.
People can also try methods like microdermabrasion, chemical peels, and topical antioxidants.