Small South American bird spotted in Kansas, the most northerly sighting ever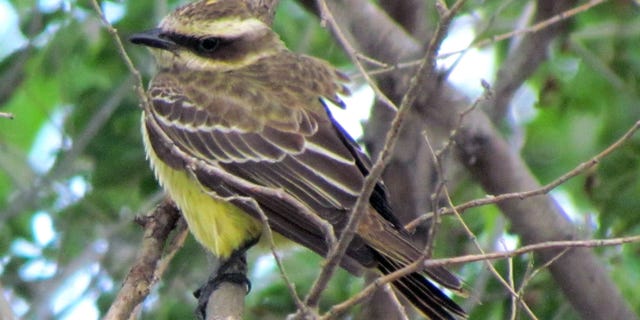 KANSAS CITY, Mo. (AP) – A small bird that's typically found hundreds of miles away in Mexico and South America apparently made its way to western Kansas, watchers say, giving the Sunflower State a couple of possible firsts in the birding world.
The piratic flycatcher, a migratory bird that nests as far away as Argentina, has been seen as far north as New Mexico, Texas and Florida. But it never had been reported in Kansas until earlier this month, said Mike Rader, wildlife education coordinator for the Kansas Department of Wildlife, Parks and Tourism.
If the May 8 sighting at Scott State Park by Chris Lituma, a research associate at the University of Tennessee's Institute of Agriculture, is confirmed by the Kansas Bird Records Committee of the Kansas Ornithological Society, it would be the most northerly sighting of the bird, Rader said.
"Any time we are able to add a new species to the state checklist, it's exciting for the bird-watching community, especially one like this," said Rader, who also saw the flycatcher two days later. "If you're going to see it in Kansas, don't wait for the second one, cause you'll never see it.
"These are once in a lifetime, it's that rare. A species like this probably will never show up in Kansas again."
The news spread quickly, luring birders from around the country to the 1,020-acre park, located about 90 miles northwest of Dodge City and which usually gets about one birder a week, park manager Greg Mills said.
"That Saturday and Sunday, there were people here racing around trying to find that bird," Mills said. "I knew it was a popular sport. But I had no idea. I'm a duck guy."
Mills and Rader said it's unclear why or how the bird found its way to Kansas, but it could have been swept up in recent storms or overshot its migration pattern.
The bird records committee has to accept the sighting before it officially becomes the first piratic flycatcher sighting and gets added to the list of about 470 accepted species of birds in Kansas.
But the documentation with this sighting is so detailed, it's recognition is a "no-brainer," according to records committee chairman Mark Robbins.
"The photographs are so good, you can tell it from other species it might be confused with," Robbins said. "It's a very big deal. It's a very exciting find." It could be months before the records committee takes up the issue.
No other sightings of the bird have been reported since Rader's.
"The area that it's in, there would be no reason for that bird to leave," he said. "But a Cooper's hawk could have come by and whacked it and eaten it for lunch."