Salvadoran Lamps Could Change Lives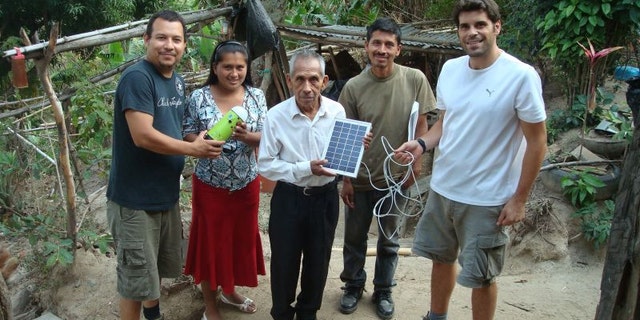 New inventions often create new possibilities, save money, conserve time, or make a task easier, but one surprisingly simple invention in El Salvador has the potential to change millions of lives in multiple ways.
SalvaSol, (or "sun saver" in English), at first glance, looks like nothing more than an emergency flashlight, and while it does provide light, that isn't its only feature. Recharged by sunlight with a small solar panel, SalvaSol can then recharge cell phones, double AA batteries and power a transistor radio.
The product developed as a collaborative project by the University of Don Bosco in conjunction with José Simeón Cañas Central American University – both of which are in San Salvador, El Salvador. SalvaSol went on to become one of 26 winners in the Energy Innovation Contest for Latin America and the Caribbean IDEAS 2009, a competition sponsored by GVEP International, the German Agency for International Cooperation, the Inter-American Development Bank and the Korean government.
Mexico is Out to Set the Record on Breaking World Records
While a solar powered lamp may seem like a small thing to many of us, it's a very big deal to the recipients of the SalvaSol.
"The benefits that we get out of it," said Rubén Chávez, the owner of a SalvaSol, when he spoke in a video interview with El Diario de Hoy, "is that we save in candles, gas for the oil lamp, we can also charge our cell phones, and it gives off more light than candles or the oil lamp."
"In the night," adds Elena Escobar, another SalvaSol owner, "we don't use the gas light anymore, we use the lamp because it gives off a light that is similar to that of a light bulb, and the wind doesn't blow it out."
Not only does SalvaSol provide conveniences to those living in rural parts of El Salvador, but its providing jobs to an often underemployed group – people with special needs. SalvaSol lamps are assembled by trained employees with conditions such as autism.
When I communicated via E-mail with Rambiental, the company that owns SalvaSol, they told me that the product is available for purchase online at a cost of around $147.90 to $151.90. Those living in the United States who wish to purchase a SalvaSol as a gift for a family member or friend in El Salvador can pay an additional $9 to have it mailed to their home, although picking it up in person is also an option.
More information about the product and the company, can be found at SalvaSol.com.
Tracy López is a bilingual writer living outside the Washington DC metro area. She is the founder of Latinaish.com.
Follow us on twitter.com/foxnewslatino
Like us at facebook.com/foxnewslatino