Rum Wars: The Spat between Puerto Rico and the U.S. Virgin Islands Heats Up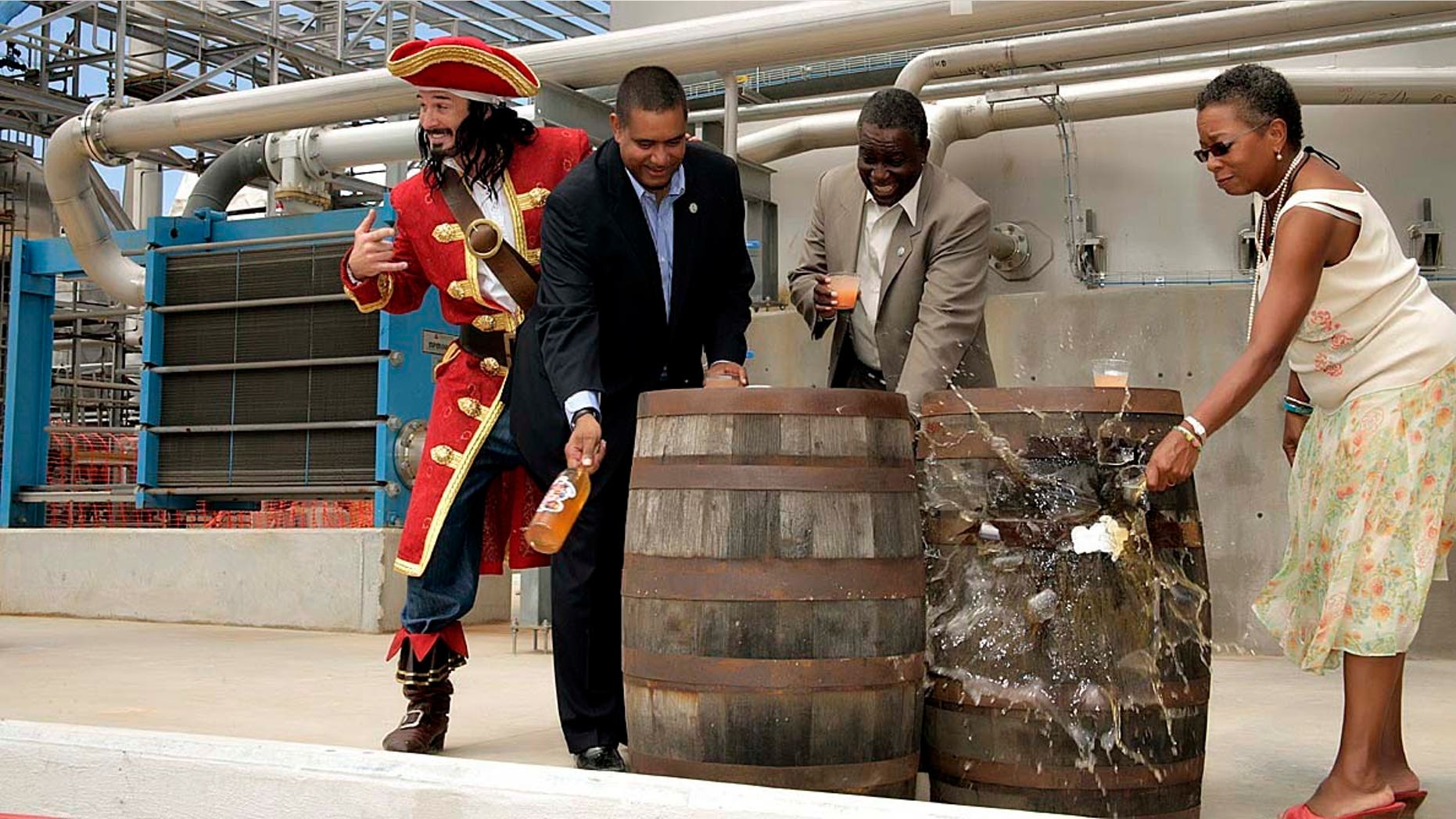 When guests showed up at Miami restaurant Sra. Martínez on April 27, they drank and feasted on rum, rum, and more rum, all of it Puerto Rican: Aside from sipping cocktails, they noshed on treats like Bacardi-infused cupcakes and ceviche spiked with DonQ Limón.
At some point, Nicole Rodríguez, who directs a government office supporting the island's rum industry, addressed the crowd.
All rum isn't created equal, Rodriguez says she told them: "The best champagne is made in France, the best cigars in Cuba and the best rums in Puerto Rico."
These days, the island is working vigorously to push that message. And there's a reason for that: Captain Morgan, the world's second most popular rum (behind Bacardi), will end production in Puerto Rico this year. In late 2010, brand owner Diageo opened up a new distillery in the U.S. Virgin Islands (USVI), and will be moving all production there. The Miami event was part of a $2 million marketing campaign to move forward following the devastating loss.
"The government of Puerto Rico is very committed to limiting that damage," says Rodríguez.
For both Puerto Rico and the USVI, the Diageo switcheroo brings significant repercussions. Both jurisdictions benefit from the federal government's "cover-over" program, which annually provides millions of dollars through rum taxes.
The program works like this: The federal government imposes a $13.50 excise tax per proof-gallon on rum sold in the United States, but $13.25 of that amount is "covered-over" to the territories' treasuries. Overall, each territory receives a cover-over sum that is roughly proportional to the amount of rum it manufactures and sells in the United States.
A version of this policy dates back to 1917.
Puerto Rico's revenue always blew away the USVI's – but then again, so did its population, nearly 4 million in contrast to 110,000 people.
Between 1990 and 2008, Puerto Rico received $5.4 billion and the USVI $1.1 billion from these taxes, according to a 2010 report by the Congressional Research Service (CRS).
But that was before USVI made its move.
Diageo announced their plans to build a USVI distillery in 2008. In a statement to The Hill, USVI Congressional delegate Donna Christensen said the change came after the company failed to come to an agreement with their Puerto Rico manufacturer and started looking at foreign locations in Central America and the Caribbean.
The new contracts will raise the USVI's cover-over revenue from $90 million to $240 million per year, said U.S. Virgin Islands Governor John P. deJongh, Jr. in a lengthy statement to Fox News Latino.
Puerto Rico has painted the USVI's deal as a government hand-out of cover-over money, in which, instead of placing tax money in public coffers, the USVI is "giving 50 percent back to the rum producer," as Rodríguez says.
DeJongh, Jr. characterized the USVI's rum industry investment as approximately 40 percent, with 60 percent going directly to public needs.
"[The contracts] will keep companies in America for at least 30 years," he says, adding that the new money would be a boon for schools, infrastructure and the island's pension system.
USVI supporters insist that Puerto Rico has inked similar contracts, but revealed less information publicly about where the money goes – an argument Rodríguez calls "false," adding "under Puerto Rican law, all government contracts are on file and open for public inspection."
Before Captain Morgan jumped ship, the Destilería Serrallés manufactured the brand's base rum. Roberto Serrallés, the operation's vice president in business development, is a sixth generation rum-maker; his family's company dates back to at least 1865.
Destilería Serrallés produces its own brands, such as Ron Llave, DonQ and Ron Palo Viejo. But Captain Morgan was "close to 75 percent of our total capacity," says Serrallés. This year, he's placing 30 to 40 employees – out of roughly 350 – on temporary layoffs.
After the Captain Morgan announcement, Puerto Rico's congressional representative, Resident Commissioner Pedro Pierluisi, introduced legislation that "would limit the territories from offering more than 10% of their covered over revenue as an industrial subsidy," according to the CRS report.
"The restriction seems intended to make it more costly for the Virgin Islands to provide incentives to rum producers currently in Puerto Rico to relocate," the report concluded.
The proposal made little progress in the last Congress, but Pierluisi is expected to present similar legislation soon.
Meanwhile, Puerto Rico is fiercely focused on cementing down its current rum-makers and luring new business. In February, officials said they had brokered a deal to keep Bacardi – the world's most popular brand of rum – on the island for the next 20 years.
"We are taking swift action so that Puerto Rico avoids losing its rum industry to threats posed by unprecedented strategies that other rum-producing jurisdictions are chasing," José Pérez-Riera, the island's commerce and economic development secretary, told the Associated Press.
The agreement gives the brand a $95 million grant to renovate its production plant, as well as "production and marketing incentives that will equal 10 percent of the [cover-over money] from Bacardi sales in the U.S.," the article reported.
Meanwhile, Roberto Serrallés says that he is finalizing agreements with two new suppliers, both sellers in the U.S. He was also working on a super premium white rum with a celebrity partner in California.
"When you've been around for 145 years, you've seen it better and you've seen it worse," he says. "It's not going to be my generation that makes [the business] stop."
Ruth Samuelson is a freelance writer living in Mexico City. She can be reached at ruth.samuelson@gmail.com.
Follow us on twitter.com/foxnewslatino
Like us at facebook.com/foxnewslatino