'Racist' tapestry completed by Prince Charles denounced by Native Americans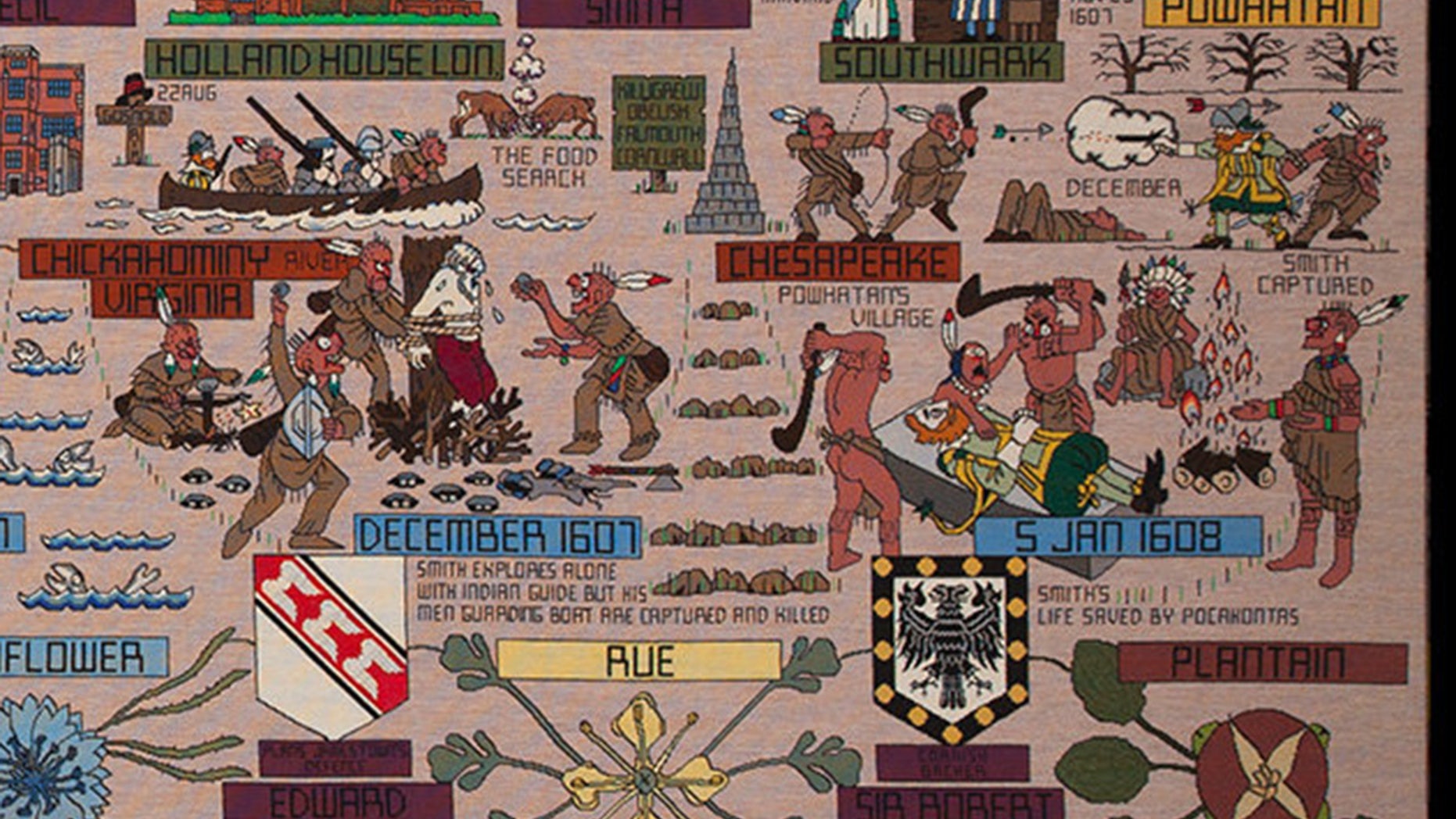 The New World Tapestry is being attacked — 17 years after its debut — on grounds that it "shamelessly" perpetuates negative Native American stereotypes.
The 267-foot-long tapestry in question depicts the violent history of English colonization from 1583 to 1642, relying on cartoon images of decapitated Native Americans and English settlers threatened with tomahawks to tell the story.
PRINCE GEORGE'S $52 SCHOOL SHOES NEARLY SELL OUT ONLINE
The project, which took 20 years to complete, was started in 1980 and solicited contributions from the Queen, the Duke of Edinburgh, the Queen Mother Elizabeth and the Prince of Wales, as well as 256 volunteers. Prince Charles of Wales added the final stitch in 2000, making the work the largest stitch embroidery in the world at that time.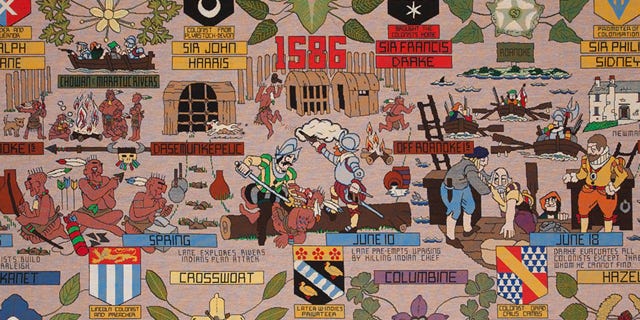 But now, the tapestry is receiving complaints for depicting Native Americans as "subhuman, warlike savages," said Jacqueline Pata, the executive director of National Congress of American Indians (NCAI), to The Telegraph.
Though the tapestry isn't currently on display — and "there are no current plans to put it on display," according to a spokesman for Bristol City Council where the tapestry is in storage at the British City Museum — it is being digitized with sections available for others to view online. The NCAI wants to stop this.
"Unfortunately, too many Americans form their misinformed opinions of Native people based on such inaccurate, harmful depictions of who we supposedly were and are, as somehow 'less than' other Americans," Pata said.
However, not all understand what the group is upset about.
Tom Mor, the tapestry's designer, denies any inkling of racism, and defends his project as a "sympathetic tribute" intended to bring community together and celebrate history. He says his design, which is based on watercolor drawings by 16th Century artist John White, is aimed at reflecting history as it happened.
"What I wanted to avoid was the picture of English people coming ashore from their galleon to the New World as peaceful and quiet. It wasn't so," Mor told The Telegraph. "It's no use pretending about it or being shocked by it. Mine is a cartoon, but it is a reality. I tell it as it is and I tell it with humor."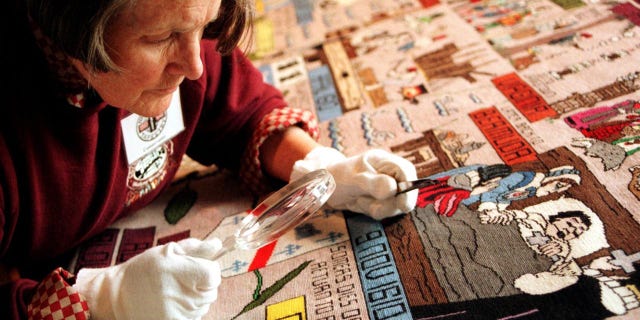 The 88-year-old Mor says he tries to show what really happened concerning the Native Americans rightfully defending their land. "The [colonists] kept on being bumped off, quite reasonably," he said. "If somebody invaded your territory and wanted to take it, you would fight back."
"It's not racist, what's racist about it?" he added.
FOLLOW US ON FACEBOOK FOR MORE FOX LIFESTYLE NEWS
But Pata sees a lot racist about it, stating, "It shamelessly perpetuates a centuries-long artistic tradition that seeks to portray Native people as subhuman, warlike savages."
She ended her statement with a plea: "It is time for this racist tradition in all of its forms — whether art tapestries or football helmet logos — to end, once and for all."
Mor, meanwhile, says he sees the move to ban his tapestry as a denial of history, saying that this is an era where people prefer to reject what happened rather than "come to terms" with the reality. He is also urging protestors to view the work in its entirety rather than reacting to individual sections.