President Trump's mismatched suit leads to speculation about fashion faux pas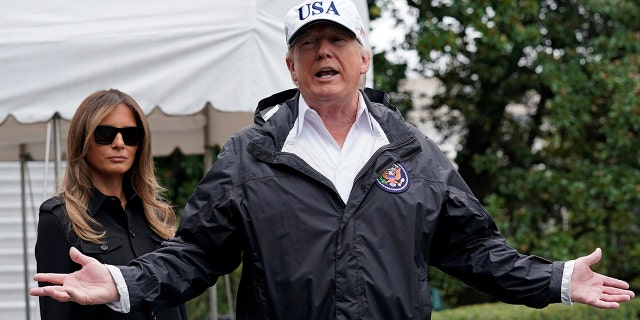 Though Press Secretary Sarah Sanders described President Donald Trump's Sept. 13 meeting with Sen. Tim Scott (R-S.C.) on race relations in the wake of the Charlottesville protests as "very productive" with "a focus on unity," one element of the meeting was criticized for lacking cohesion: POTUS' attire.
Outfitted in a navy jacket, black slacks and a bright blue tie, Twitter users were quick to wonder whether the look was accidental or intentional.
While President Trump certainly marches to the beat of his own sartorial drum, from Scotch-taping his ties to evidently eschewing jeans since the 1980s, even fashion experts were surprised by his mismatched attire.
TRUMP INTERNATIONAL RESORT APPLIES TO HIRE MORE FOREIGN WORKERS
"He looks like he got dressed in the dark," stylist Cristina Pearlstein told Yahoo! Style. "It seems as though the president simply grabbed a pair of black pants, believing they were blue."
"If a stylist dressed the president, they should be fired," she added.
Whether or not POTUS was attempting what GQ calls "the broken suit" look (combining mismatching suit separates on purpose), he has long favored power suits as his signature look, and perhaps not just out of respect for his role.
MICHELLE OBAMA MAKES INTERNATIONAL BEST DRESSED LIST, MELANIA TRUMP DOES NOT
"We have seen a more guarded style profile from him — it's versions of the same thing, every day," said Washington-based stylist Lauren Rothman, reports Washington Post. "There's a confidence that comes from a uniform."
Even when visiting storm-ravaged Texas or embarking on a working summer vacation, the president rarely strays from his style, and is never publically spotted in anything more relaxed than khakis.
"The rest of the world might be adopting more casual workwear," Rothman said, "but that doesn't play into his narrative."
FOLLOW US ON FACEBOOK FOR MORE FOX LIFESTYLE NEWS
While the fashion jury is left to determine whether this navy-and-black suit combination was deliberate or unintentional, it's possible POTUS simply received some breaking fashion intelligence that the public isn't yet privy to.