Police officer helps turtle cross road in torrential downpour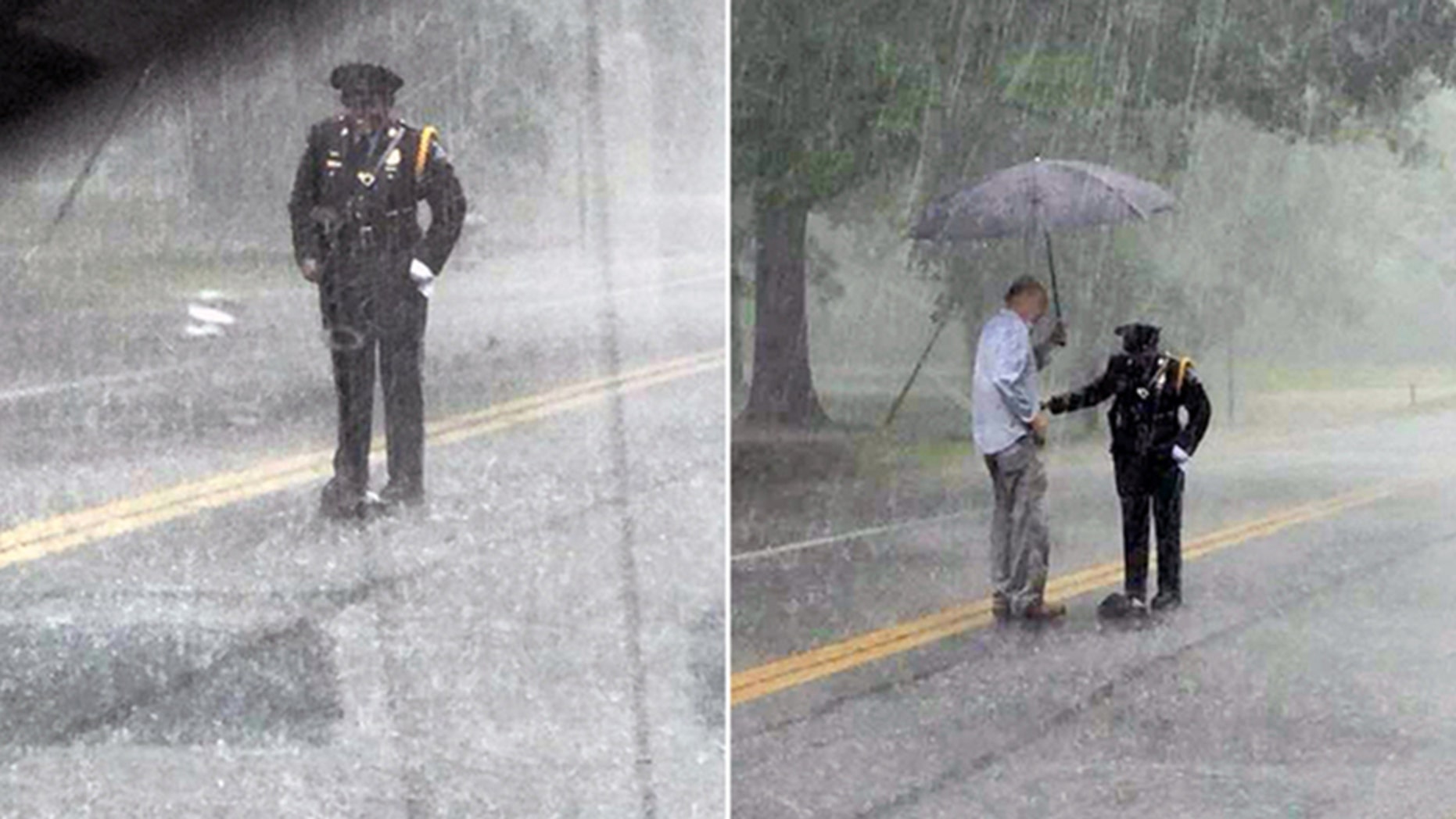 A Maryland police officer is winning praise for helping one of the smallest residents in her city – a snapping turtle - cross the road, in torrential downpour.
Greenbelt resident Carolynn Hammett and her husband had spotted the officer, in full uniform, standing watch over a struggling turtle, with a megawatt smile on her face, Fox 5 first reported earlier this week. According to the outlet, storms have ravaged the area in recent days, with major rainfall causing flooding.
Nevertheless, the weather couldn't damper Master Police Officer Sharnise Hawkins-Graham's spirits.
WASHINGTON MAN CATCHES NEARLY 7-FOOT HALIBUT: 'IT WAS BIGGER THAN A FOLDING TABLE'
"The officer was soaking wet and continued to have a gorgeous smile on her face," Hammett told Fox 5.  "It was quite a beautiful experience."
"I couldn't believe that she was standing there guarding that turtle in all that rain," she added. "Not many people would do that, regardless of their occupation. She was serving and protecting in every sense of the word."
Hammett's husband soon rushed to the officer's aid with an umbrella.
FOUNDER OF FIRE DEPARTMENT COFFEE IS FOCUSED ON GIVING BACK TO INJURED FIREFIGHTERS, VETERANS
In the meantime, Hammett and her husband hurried home to get shovels, and helped move the turtle safely out of the road.
"The officer thanked us and we thanked her and we all went on our way," Hammett told The Dodo, an animal blog, which also explained that Hawkins-Graham was traveling home from a ceremony when she was alerted about the animal. "She was smiling a big broad smile the entire time and she never seemed to care that she was drenched completely through. She was delightful, inspirational, kind, all the things that you think a police officer should be."
The news comes as no surprise to the Greenbelt Police Department, which recently named Hawkins-Graham as the Officer of the Year.
FOLLOW US ON FACEBOOK FOR MORE FOX LIFESTYLE NEWS
"Master Police Officer Hawkins stopped to help a large snapping turtle cross the road after leaving a Honor Guard detail at the Naturalization Ceremony yesterday. A great big thank you to the Hammetts for stopping to help out! As for the turtle, he made it across the road safely," the Greenbelt City Police Department wrote on Facebook, sharing the story.