Personal trainer gets overweight client banned from fast-food restaurants: 'Obesity is killing him'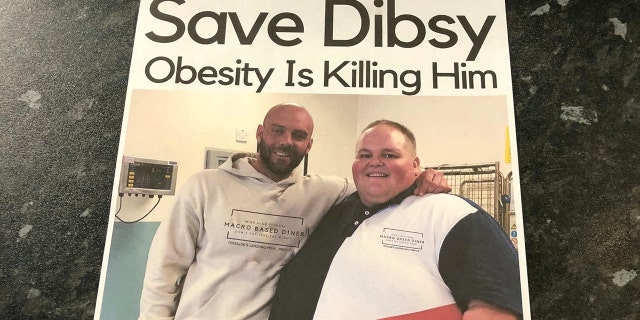 A personal trainer is helping his overweight client to lose weight — by getting him banned from all his favorite take-out joints.
Mike Hind has stopped by all of Darren McClintock's regular fast-food stops with a flyer featuring his picture, and asking staff not to serve him. He took the drastic action after doctors warned 27-year-old Darren — also known as Dibsy — that he was "eating himself to death."
10 LUNCHES TO BOOST YOUR BRAIN HEALTH
Each flyer giver to the restaurants opens with the headline; "Save Dibsy. Obesity is Killing Him. Do Not Serve This Man.'
Dibsy, who does not want to disclose his weight, was eating pastries, french fries and pies daily before being given the urgent wake-up call when he was hospitalized with heart problems because his heart was beating too fast. He also said he could have died.
He has now embarked on a healthy new lifestyle with the help of award-winning personal trainer Hind. Together, the two of them have gone around their hometown of Middlesbrough handing out posters to all Dibsy's favorite restaurants.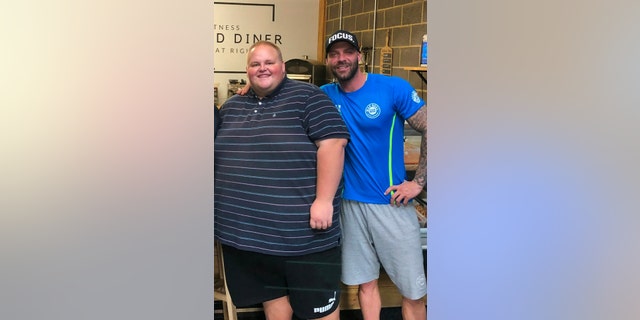 At the moment, Dibsy has to book two seats on planes and order specially sized clothing that costs extra, but he's hoping that changes soon.
"I've struggled with my weight since I was a teenager, but this year it's declined massively," Dibsy said.
"Instead of picking the healthy option I would always go for what I liked, stuff like pies, pasties, crisps and chips. It got to the point where my legs and back were aching all the time and I ended up in hospital.
TOURIST GETS 'DRAGON MASSAGE,' ENDS UP WITH RED MARKS ALL OVER HIS BACK
Dibsy said his doctor told him he couldn't continue with his unhealthy lifestyle, or he'd be "dead before too long."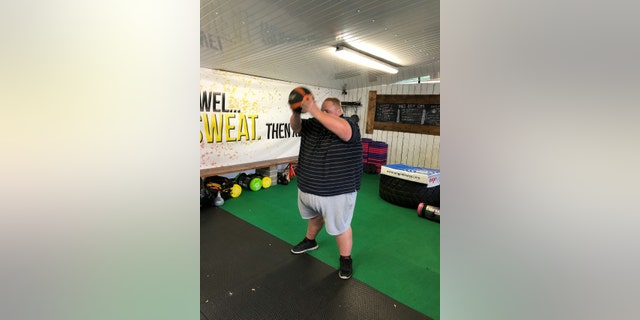 "Seeing my mum's reaction to it all was heartbreaking, if it wasn't for that I might never have changed. Now I need to face up to my problem and tackle it head on; it's now or never."
Dibsy was also tired of the "finger-pointing and laughing over the years," noting that he was bullied in school, too.
"That's another reason for making a change now, so that I can live a normal life."
FOLLOW US ON FACEBOOK FOR MORE FOX LIFESTYLE NEWS
Each year, Dibsy's personal trainer, Hind, takes on a client for free. He received around a thousand applications but was drawn to Dibsy when he saw him with his mom.
They've only been working together since the weekend, but Dibsy has already lost weight. Hind, who runs a healthy food company called Macro Based Meals, is also providing fully tailored and prepared meals for Dibsy every day.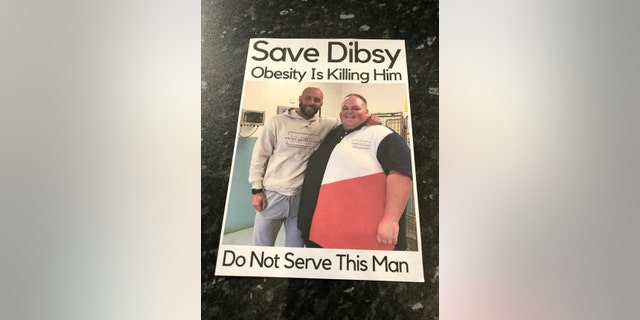 "Dibsy is a great guy but unfortunately he hasn't taken care of himself properly. I was really affected by his story and motivated to help him so he can turn his life around," Hind said.
"He's made a great start, he's trying hard and, most importantly, smiling."
Hind estimates that it could take up to a year for Dibsy to get down to a healthy weight.