Our American Dream: This Soldier was Down, but Far From Out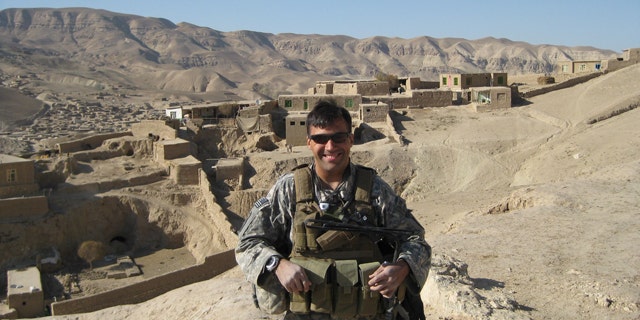 An estimated 12 percent of the U.S. Army are Hispanics. In all fields of endeavor, across the United States, Latinos are working to uphold their place in American society. Fox News Latino is proud to present "Our American Dream" – a series of snapshots and profiles of Latino success stories made in America.
When a 35-foot fall left Army Cpt. Reinaldo González II paralyzed from the neck down in 2007, one of his main goals was, of course, to walk again.
Chief among the soldier's other priorities: to be deployed to Afghanistan.
"I wanted to go back to work," González, 28, said in a phone interview recently.
By June 2010, the soldier had achieved both goals. His recovery about "90 percent" complete, González is not only walking – he is serving as an Aide de Camp to for the Deputy Commander of Regional Command, North, in Afghanistan.
González credits his family – parents Reinaldo and Elizabeth Cruz-González, and sisters Elizabeth and Megan – for his comeback.
"The fact that I wanted to go back to work was an easy progression to make because I had a good family network," he said. "My parents were there every day. It's something I'll never be able to repay."
González's path to the military began while as a student at William Paterson University in New Jersey. The son of a Port Authority police officer "tossed around the idea" of applying to the U.S. Military Academy at West Point.
"I thought it would be a great opportunity to give me a chance not only to continue my education, but to serve the nation as an officer," he said.
Two months before Sept. 11, González formally enlisted into the Army.
"I wanted the challenge," he said. "It's a great honor to have."
A few years into his service, however, González was in the middle of a training exercise at the U.S. Army Ranger school in Fort Benning, GA, when he fell headfirst and severely injured his spinal cord.
"Being paralyzed from the neck down is very tough," he said. "I didn't know what to expect. The doctors didn't know, either. I had to take it one day at a time."
And so it went for the next three years, until his first steps, his first day back at work, and the dangerous deployment he so desperately wanted.
Now, the dedicated soldier is responsible for helping his commander with logistics, scheduling his briefings and, among other duties, setting up meetings with local Afghan officials in nine provinces throughout the embattled country.
"It's a great job," he said, adding that the most rewarding part is seeing his hard work come to fruition. "You get to see the outcome."
González begrudgingly acknowledges that his recovery is as a success story and a model of inspiration for other soldiers, particularly Latinos. Grateful for all the help he received during his darkest days, he wants to pay it forward.
"A lot has been given to me as a result of my injury," he said. "I hope that I can repay that debt.
"If I can inspire another Latino, that's be great," González, whose parents are from Puerto Rican, added. "But I just want try to keep working. Just keep it business as usual."
Life after the military? Who knows? says González. The college graduate would like to pursue a master's degree, and maybe go to law school.
"We'll see what the cards hold," he said.
Follow us on twitter.com/foxnewslatino
Like us at facebook.com/foxnewslatino