Opinion: For Latinos, Education Starts at the Kitchen Table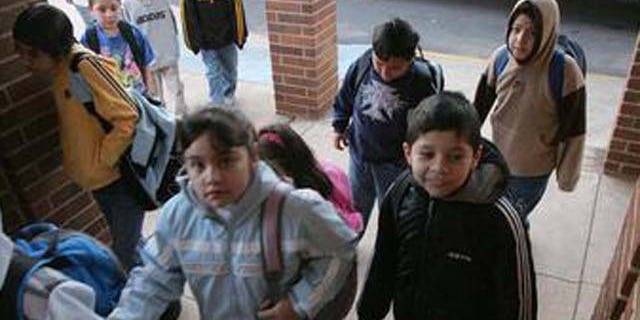 NEWYou can now listen to Fox News articles!
Increasing the number of college-educated Latinos is essential to securing the nation's future, and engaging Hispanic families and communities in this effort is critical to its success. That's why I was proud to join President Obama in one of Washington, D.C.'s fastest growing Latino communities for a historic town hall meeting on Hispanic education.
Improving the Hispanic college-going rate is going to take the commitment, focus and attention of Latino families when they gather around the kitchen table. Those families will need support from their growing communities in places like Houston, Los Angeles, Atlanta and even places you might not guess, like Alabama, where the Census reports a 144% increase in the Hispanic population over just 10 years.
For many Hispanic families, the path to college is not easy and is only possible through a great deal of sacrifice. Latinos face a host of obstacles on their way to a college degree including trouble accessing information about the college admissions process and limited financial resources.
So if we want more Hispanics to succeed in education and life—a goal that we believe is inextricably tied to our nation's future success—the family is the place to start. We believe that when one member of the family earns a college degree, either the oldest child or one of the parents, it can have a strong and enduring impact on the college outlook of the entire family.
In the short term, this will be a sacrifice for everyone. But in the long run, the first-in-family graduate can serve as the spark that changes the college trajectory of an entire family.
I know this can work because I went to college, and my children did too. And at the Hispanic Scholarship Fund, we see it happen over and over again with the families we help go to college. We call these success stories, and the effort to build more of them, Generation 1st Degree.
The Hispanic Scholarship Fund's vision is for the U.S. Latino degree attainment rate to increase from 19 percent to 60 percent by 2025. We believe this goal is attainable, and we urge the country's leaders, corporations, and communities to help us reach them.
This effort will not only benefit Latino families nationwide, it will benefit all Americans. We estimate that percentage change will result in a significant increase in Latino lifetime earnings—from the current $24 trillion to $47 trillion (in current dollars) if the 2025 goal is met. This type of increase in earnings will also have an incredible impact on the country's bottom line and ability to compete in the global economy.
We join President Obama in his call to action as we reach out to the nation's Hispanic families, one home at a time. And we ask each family to gather and come up with its own action plan for how it will be part of Generation 1st Degree. This is how we will move our community and our country forward.
Frank D. Alvarez is President and CEO of the Hispanic Scholarship Fund, the nation's leading Latino organization supporting Hispanic Higher Education.
Follow us on twitter.com/foxnewslatino
Like us at facebook.com/foxnewslatino