Newborn daughter of late Army specialist poses for photo shoot with dad's fellow soldiers
Army Specialist Chris Harris was killed in a suicide-bombing attack in Afghanistan only weeks after his wife learned she was pregnant, but his widow and his fellow soldiers are keeping his legacy alive in a new photo shoot with Harris' two-month-old baby girl.
Chris' widow, Britt Harris, along with the soldiers who served alongside him gathered on May 29 for a touching photo shoot with the couple's newborn daughter, Christian Michelle Harris, who was born on March 17.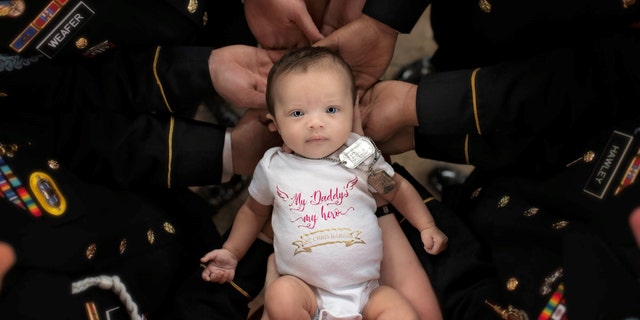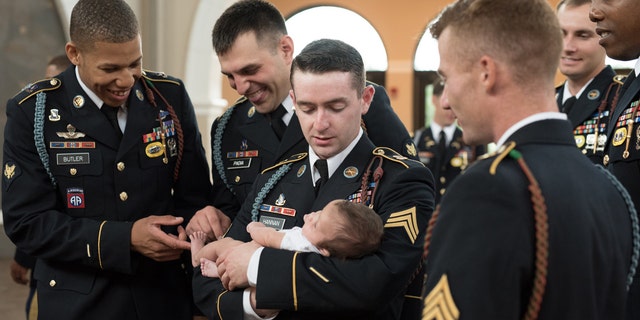 BABY POSES IN LATE FATHER'S MILITARY UNIFORM IN EMOTIONAL PHOTOS
Surrounded by her father's friends, Christian was photographed wearing her father's dog tags and holding an American flag, all while wearing a shirt reading "My Daddy's my hero."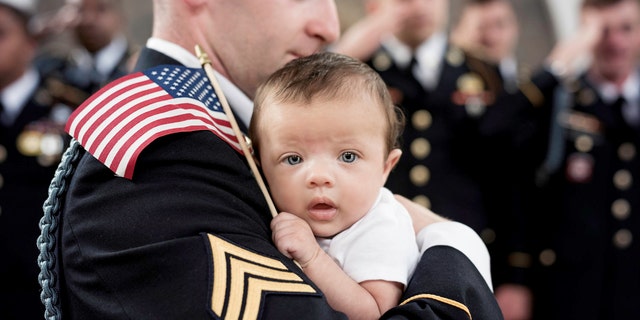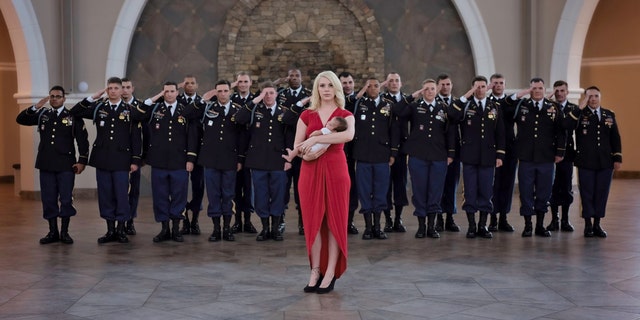 "Knowing that we could come home to a baby girl, that was awesome," Sgt. Nathan Arthur Bagley told WTVD of visiting Christian upon returning from duty. "When everyone came home, that was the day she was born so that made it 10 times better."
"It's refreshing to see those blue eyes again," Britt added of seeing Chris' in their newborn.
Earlier this year, Britt also shared emotional photos from Christian's first photo shoot, including pictures her baby sleeping next to a photograph of her father, and another in which she was wrapped up in his uniform.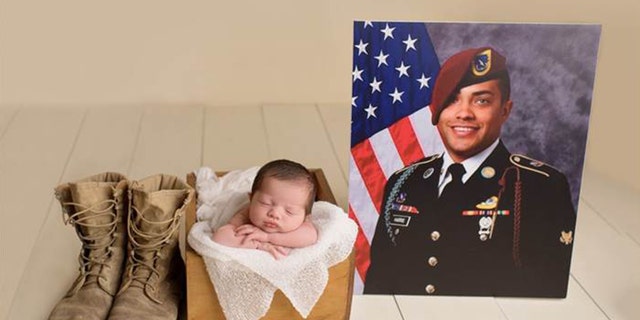 WALMART EMPLOYEE WOWS SHOPPERS WITH NATIONAL ANTHEM PERFORMANCE
"I wanted to capture as much of Chris' spirit as I could. He was extremely devoted to the Army and his country," the 26-year-old told Today in April. "I thought nothing could be more fitting for her photos and [it would be] something she can look back on with pride."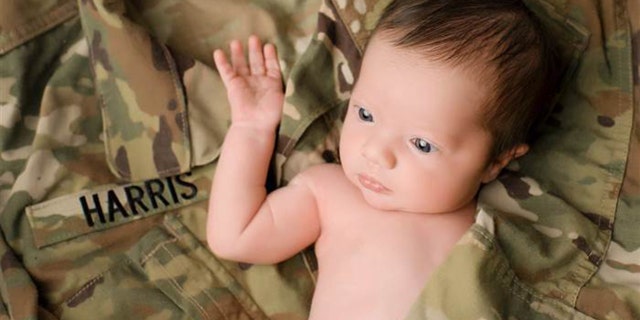 Chris' fellow soldiers, too, have been excited for the arrival of Christian after her father was killed by an IED in August at age 25.
In October, his unit gathered together to help Britt celebrate the baby's gender reveal in a video that soon went viral on Facebook. (Warning: Video contains explicit language.)
FOLLOW US ON FACEBOOK FOR MORE FOX LIFESTYLE NEWS
"Chris is an only child. They were his family," Britt told ABC News at the time.
"Everyone that I've met, before Chris passed and after, if they're in the military, they've treated me like actual family, or royalty, actually."