Model born with birth defects aspires to be 'voice' of self-love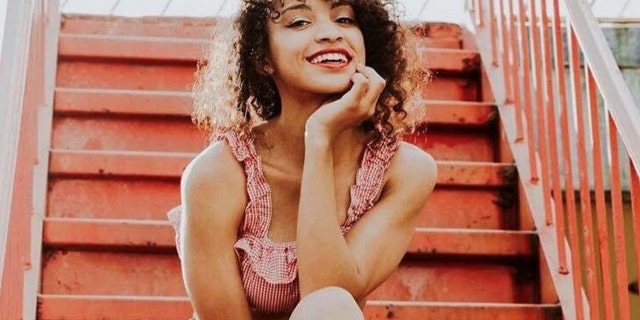 Born with only one foot and two disfigured hands, 21-year-old model Lyric Mariah Heard is determined to make waves beyond the fashion industry by inspiring others to live the fullest life possible.
The Illinois native was born with Amniotic Band Syndrome, a random, non-genetic birth defect that's caused in-utero. Today, she wants to be an exemplary role model, "a voice, a go-to when people need a reminder on self-love," she told Yahoo Style.
Bullied in childhood, Heard's confidence has blossomed with time, as she recounted the damage that cruel words caused her.
FITNESS BLOGGER DEFENDS SPORTS BRAS AS ACCEPTABLE GYM ATTIRE
"I was judged and humiliated all the time for something that I had absolutely no control over," she said. "I didn't understand that, because it's not like they were the ones who had to walk around with a four-pound leg and their hands hidden in their pockets — that was me."
Once the model hit high school, she rose above the bullies and embraced self-acceptance.
"My appearance gave me a purpose and my modeling gave me a platform," Heard said. "Society has a way of making people feel lost and invisible, and unfortunately many people never shake that. Own what makes you different — no one can be like you."
WOMEN PHOTOGRAPH 1,001 BARE BUTTS TO PROMOTE BODY ACCEPTANCE
Giving advice to anyone feeling ostracized, Heard emphasized the importance of surrounding yourself with positivity whenever possible.
Likewise, the model noted that she's inspired by others with disabilities who work to achieve their dreams.
One example can be found in the latest Nordstrom campaign, which recently featured models with disabilities in its Anniversary Sale Catalog. Since 1991, disabled individuals have graced fashion campaigns for the luxury retailer.
FOLLOW US ON FACEBOOK FOR MORE FOX LIFESTYLE NEWS
At the end of the day, Heard notes that it doesn't matter whether or not the cameras love you, but that you respect and champion yourself, first and foremost.
"Self-love is the most important kind of love — all of your passions, all of your dreams, all of your aspirations will flourish when you truly love yourself, because then and only then can you succeed," she said.