Miss BumBum paints Virgin Mary on bare body for special Easter photo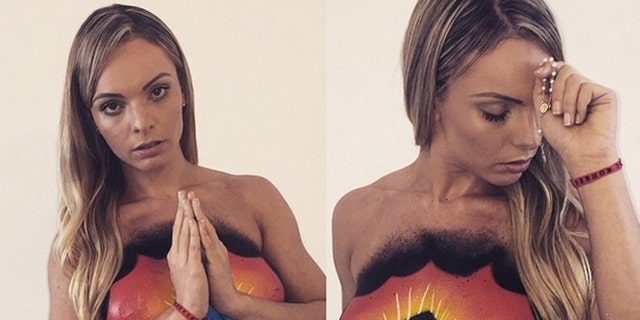 Holy Mother of God!
The winner of this year's infamous Miss BumBum Brazil contest celebrated the Easter Holiday with a special tribute to the Virgin Mary and the Easter Bunny.
Unlike her curvaceous colleague Andressa Urach, who after a series botched plastic surgeries has found God and put on some clothes, the 2104 Miss BumBum, Indianara Carvalho, stripped off her thong and into some body paint for a revealing Easter shoot.
Staring sexily into the camera, Carvalho is shown with her hands clasped together in the form of prayer while covered only in a painting of the Virgin Mary. Another pic shows the busty beauty holding a rosary against her forehead – looking to be deep in prayer.
"Lord, on this day I ask for peace, love, wisdom and strength," the 23-year-old stunner wrote on her Instagram page. "I want to look at the world through the eyes of love, I want to be patient, understanding, gentle and wise."
She added: "May your blessings fill my spirit and my heart, which is so kind and cheerful … Feel your sweet and gentle presence … I am your grace."
Another series of shots of Carvalho feature her garbed in only bunny ears and a poufy tail covering her private parts, while fake chocolate drips from her neck and breasts.
The series of photos have created outrage among Carvalho's followers on the social media app.
"This proves that beauty is not everything," Javier Veliz Angulo wrote on her feed. "[Y]ou have lost me as one of your fans."
Carvalho – who in the past had tattooed a picture of FC Barcelona's shield onto her famous behind before posing naked in a bath of chocolate – had surgery last December to become a virgin once again so she could enjoy her first night in bed with "someone special."
She said she wanted to perform the surgery before a nude photo shoot because she "wouldn't feel good about appearing naked if I wasn't exactly as I came into the world, if you know what I mean."
A vaginal rejuvenation surgery is performed using a surgical gel to create a new hymen that lasts a few days before dissolving, or more permanently by using a flap of skin cut from the vaginal wall. The women who undergo this operation must abstain from sex for three months after surgery.
"I think I also want to give a bit of respect and new concept to the Miss Bum Bum title by being a virgin," she said.