Microwaveable soups and noodles burn thousands of children each year, research says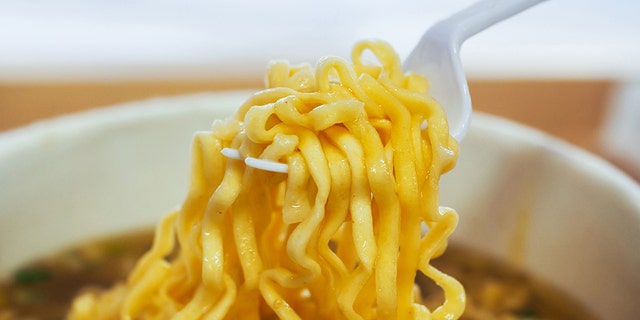 Instant noodles and soups made in a microwave have been credited with feeding poor college students over the years but research stated the cheap meal has burned thousands of children each year, sending them to the hospital.
New research that will be presented at the American Academy of Pediatrics National Conference on Monday in Orlando, Fla., stated the instant noodles and soups were responsible for "burning almost 10,000 children ages 4 to 12 each year," Today.com reported. About 1 in every 5 children received scald burns that sent them to the emergency room.
Dr. Courtney Allen, an author of the research and a fellow at Emory University, said in a statement, according to Buzzfeed News, "Scald burns are a major cause of preventable injury among children, and our research found that instant soup spills are responsible for a large number of these painful burns."
METH-LACED HALLOWEEN CANDY SENDS OREGON PARENTS TO HOSPITAL, AUTHORITIES SAY
Allen told Today the researchers were surprised by how many people were injured from the microwaveable soups and noodles. She said the researchers started investigating after noticing a large number of young patients going to the Children's Healthcare of Atlanta and saying they were holding the products before getting burned.
The researchers discovered more than 9,500 between the ages of four to 12 were burned by microwavable instant soups, noodles, and cups of soup. About 40 percent of patients suffered burns to their torso area followed by areas such as the feet and arms. Allen said the children 90 percent of the children who were transported to the emergency room for burns were discharged after treatment.
Allen warned guardians and parents to watch children closely when handling instant soups and noodles.
FAMILY SUES OVER STUDENT'S PANCAKE-EATING CONTEST DEATH
"Caregivers need to closely supervise younger children who might otherwise get hurt if cooking for themselves," Allen said.
Researchers suggested companies may want to consider changing the packaging on the products to make them safer for children.
To learn more about caring for burns, please visit the U.S. National Library of Medicine for extra tips. The U.S. National Library of Medicine said minor burns can be treated at home with first aid.