Mexico City Wants You to Get to Know Your Local Cop, in a Good Way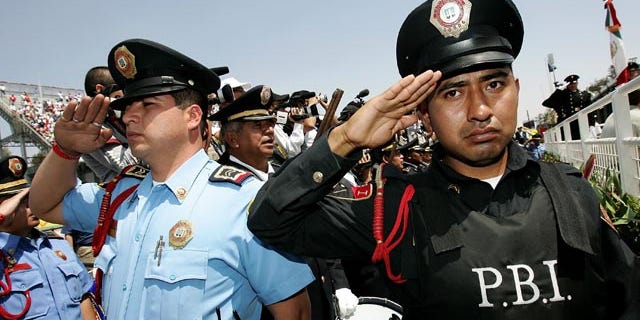 When gunshots awoke Juan Carlos Fajardo at 3 a.m., the police arrived at his gate in five minutes flat—a major improvement, he said, from the days when the cops would take too long or never show.
"Before, you'd call and they wouldn't come, and now they come right away," said Fajardo, who recently placed a sticker on his fridge with the numbers of the officers charged with guarding his neighborhood, Militar Marte.
Mexico City's police are working overtime to change their image with a public that has long doubted, disrespected and even reviled law enforcement. Police in the country's capital city have reorganized to be more responsive and have instituted a new program requiring cops to get to know the neighbors.
Police sectors, previously divided into 10-square-mile chunks, have been redrawn this year into one-square-mile areas or smaller. There are now 918 new quadrants, and officers in charge in each of three daily shifts are knocking on doors to introduce themselves. They are handing out flyers and stickers with their photos and cell phone numbers.
Officer Pedro Curiel is in charge of a quadrant that includes Mexico City's Zona Rosa, a popular spot for dance clubs, sex shops and some of the city's seedier nightlife. A Nextel cell phone is tucked into a compartment in his vest, and people have been calling.
"In my zone, now the people know me," he said. "Now they have more confidence in us and us in them."
Since the city's quadrants were redrawn in April and police began officially meeting residents in June, there are marked improvements in response times and community relations, say police. They are catching more suspects and crime is down.
The incidence of "high-impact crimes"—which include armed robbery, assault, auto theft and other violent crime—has fallen 12.5 percent from 2010, according to Pedro Ibarra Díaz Trujillo, who heads up analysis and control in police operations. And whereas police used to apprehend a suspect in fewer than 8 percent of cases, they are now catching suspects in 20 percent of cases. Ibarra attributes both improvements to the new "Quadrant System," as it is called here.
An Image Problem
But some say the police's tarnished image in Mexico City won't be so easily polished.
Two officers stopped by the Estetica Roma barbershop about two weeks ago and introduced themselves to barber Roberto Cuatepitzi. They let him know they were "at his service," and he saved their phone numbers in a little book on the countertop littered with combs and scissors.
Still, Cuatepitzi says his still has "many doubts" about the police, "especially when they are looking for a way to detain and extort you," he said. "It's very annoying."
In the past three years, 6,500 city cops have been fired for failing anti-corruption tests.
The "Quadrant Systems" program, as it has been dubbed by police, cost 4.5 million pesos to implement, or about $350,000, according to Ibarra. That price tag included the distribution of cell phones to the officers in charge of each quadrant (outgoing calls are limited and records are kept to prevent misuse) and a computer system that lets headquarters monitor officers' movements around the city, as well as additional training to hone officers' ability to interact with residents—since most of the 19,000 police involved in the new system were accustomed to simply patrolling.
Gustavo Fondevila, an expert in public security with Mexico City's CIDE research institute, notes that past attempts to improve the police image—including the creation of a special "citizens protection unit"—have generated little more than a temporary bump in confidence.
"It helped them improve their image, which soon after hit the floor again," he said in an emailed response to questions. "People are in such need of confidence that they'll accept anything, even though it rapidly loses its effect."
Other problems persist: police officers' general lack of education and abysmal salaries, among them, residents say. A Mexico City cop earns an average of 8,000 pesos monthly, or about $600.
Fajardo said he has "had good and bad experiences" with the police but notes that pervasive impunity in Mexico makes trusting law enforcement difficult.
"If you go to the U.S., police are respected," he said. "But we Mexicans have a certain impunity. It's very sad that we don't have a culture of mutual respect."
Lauren Villagran is a freelance journalist in Mexico City.
Follow us on twitter.com/foxnewslatino
Like us at facebook.com/foxnewslatino