Man slices watermelons on stomach, sets Guinness World Record
Ashrita Furman holds the record for holding the most Guinness World Records, having earned 750 in total — 225 of which are still standing.
He broke his latest on Tuesday, by setting the world record for most watermelons sliced on his own stomach, managing to chop through a total of 26, with a team of helpers.
"My first reaction is I'm relieved that I didn't kill myself," Furman told Global News after completing the daring challenge.
"And the second is I'm exhilarated, because it not only is a skillful record, but also it's something that I invented and now it's out there and other people can challenge it."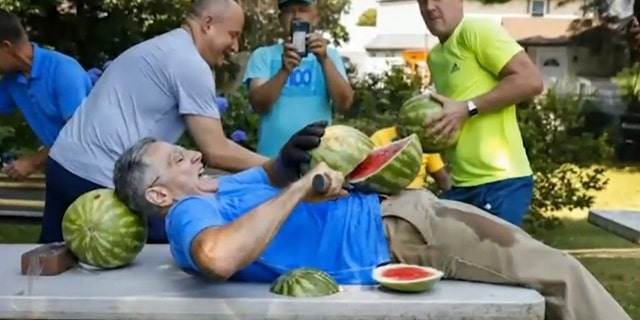 BURGER KING TREATING TERMINALLY ILL DOG TO FREE CHEESEBURGERS
Furman pitched the idea to Guinness officials after earning the world record for most watermelons sliced on a friend's stomach. The organization then came back, saying he would have to slice at least 20 to even qualify, which Furman thought was a bit high.
"I thought 15 would be safe, but 20 was pushing it a little — and fortunately we had a good team and everything worked well," Furman said.
While Furman noted the dangers involved and advised against anyone trying this at home, he did applaud himself for the level of skill involved.
"As it went along I had to sort of regulate how hard I hit the blade, and so doing that but trying to be very conscious of where the blade was and I noticed at one or two points it was getting very close to my arms, so I had to make an adjustment," he told Global News.
REAL ESTATE AGENT USES 'TYRANNOSAURUS REX' TO PROMOTE TEXAS HOME
Some other crazy records Furman holds include fastest mile run balancing a baseball bat, most sit-ups in an hour under the Eiffel Tower, and longest time juggling underwater.