Man shares hilarious self-tan fail: 'Turns out you can't spoon your Mrs after she's faked tanned'
NEWYou can now listen to Fox News articles!
Sam Phillips fell asleep cuddling his girlfriend, Jade, last week. But when the 23-year-old woke up, his legs were a little more sun-kissed than he remembered.
TEEN'S POST-SPRAY TAN SELFIE GOES VIRAL
"Woke up thinking I had a big bruise on my leg," Phillips wrote on Twitter.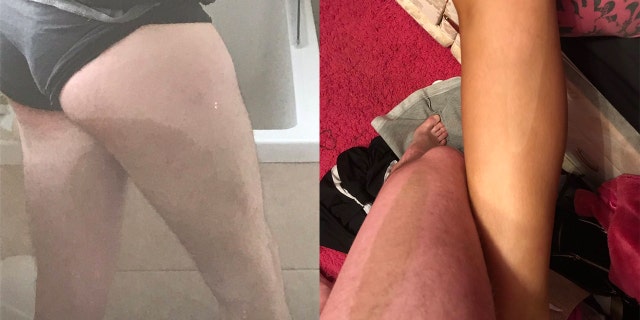 However, the man quickly discovered the "bruise" wasn't a bruise at all, but a stain from his partner's fake tan.
Jade had apparently gotten a fake tan earlier in the day. After the pair cuddled, Phillips was left with a streak of brown on his thighs and his girlfriend had a large mark on her calf that aligned with his new tan.
Phillips, though, is not the first man to have experienced this level of self-tan fail as evidenced by the hundreds of comments on his post.
CLICK HERE TO GET THE FOX NEWS APP
FOLLOW US ON FACEBOOK FOR MORE FOX LIFESTYLE NEWS
Luckily for Phillips, he won't have to wait until the tan fades. To remove a bad self-tan, home remedies such as mixing lemon juice and baking powder into a tan-fading paste, or simply exfoliating the skin can help get you back to your normal shade quicker.