Jesuits select Venezuelan priest – and 1st non-European – to lead order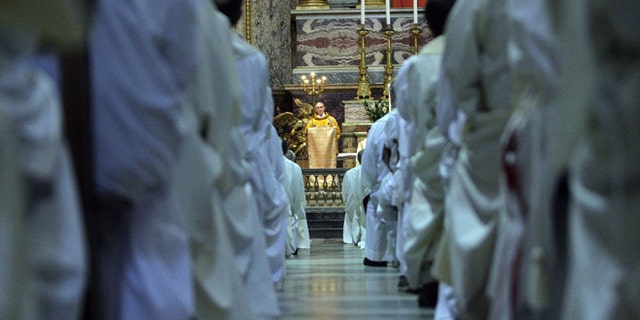 A Catholic priest from Venezuela became the first non-European superior general of the Society of Jesus in the order's almost 500 year history.
Fr. Arturo Sosa Abascal was chosen to succeed 80 year old Fr. Adolfo Nicolás as the head of the 16,000 members in the Jesuit order. Nicolás, a Spanish priest who became superior general in 2008, had asked to resign because of his age after leading the Jesuits for 8 years.
"I have the feeling of needing great help. Now the great challenge begins," Sosa told Vatican Radio after being informed of the choice. The election of Sosa came after four days of prayer, silence and one-on-one conversations among the voting delegates.
"Jesus must give us work to do here, too, with us," Sosa said. "The work of the Jesuits isn't the responsibility of one person but of the entire order, whose members are very good."
Sosa's fellow Latin American, Pope Francis, was informed about the election results before it was publicly announced. In March 2013, Francis, who is Argentinian, became the first non-European pontiff from Latin America as well as the first Jesuit.
Jesuit Father Antonio Spadaro told Vatican Radio on Friday that Sosa has great experience and skill in governance, spirituality and academics, adding that he will be a "multifaceted and well-rounded" leader.
Born in Caracas in 1948, Sosa joined the Jesuits in 1966 and was ordained to the priesthood in 1977. During his decades in the order, Sosa served as the Superior of the Jesuits in Venezuela from 1996 to 2004 and as Nicolás' delegate for the international houses and works of the Society of Jesus in Rome.
An academic who has published numerous works on Venezuela's history and politics, Sosa was invited to teach at Georgetown University's Center for Latin American Studies in 2004 and has been the president of the University in the Venezuelan State of Táchira since 2004. He speaks Spanish, Italian, English and understands French.
His promotion to be the 31st leader of the Society of Jesus comes as the Catholic Church increasing looks toward Latin America and Africa as its number of followers and its sway in Europe declines.
Founded by St. Ignatius of Loyola in 1540, the Jesuits are known for their roles as educators as well as their vows of poverty, chastity and obedience. They also make an additional vow of obedience to the pope "in regards to mission" and swear an oath to never seek higher offices within the Church.
Their vow of obedience to the pope, however, means they must respect papal appointments, such as when Jorge Mario Bergoglio, before he became Pope Francis, was named auxiliary bishop and then Archbishop of Buenos Aires by St. John Paul II.