Instagram influencer Chiara Ferragni slams newspaper for reportedly fat-shaming her friends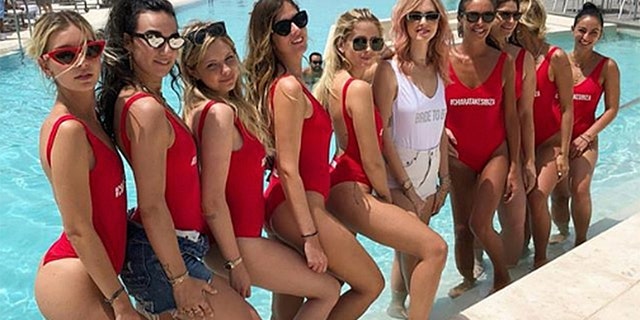 Instagram influencer Chiara Ferragni was quick to chastise a major Italian newspaper for reportedly fat-shaming her friends after the fashionista and new mom shared photos of the women in swimsuits during her bachelorette party weekend in Ibiza, Spain.
On July 14, the 31-year-old style star took to Instagram to blast Corriere della Sera for publishing a story on the glamorous getaway. The outlet not only dubbed the women "rotonde," or round, but also made note of Ferragni's weight since giving birth to son Leone ─ with rapper Fedez ─ in March, Yahoo Lifestyle reports.
MEGHAN MARKLE, KATE MIDDLETON ATTEND WIMBLEDON IN FIRST SOLO OUTING
"My friends have been described as 'fat' by the biggest Italian newspaper," the blogger behind the highly followed fashion site The Blonde Salad wrote to her 13.5 million followers, adding the hashtags #BodyShamingIsForLosers and #ChiaraTakesIbiza.
"This article came out saying my friends were happy at my bachelorette even if they weren't SKINNY and IN SHAPE. I think it's DISGUSTING to give a message like that, especially when so many girls are struggling with their body identity and self confidence," she began the post, which has since been liked over 811,000 times.
"I've never felt perfect in my life (nor do I think I am right now), but I was always lucky to feel confident in my own skin," Ferragni continued, citing the confidence her mother instilled in her growing up.
"Women have such a hard time feeling beautiful because of so many reasons," she added. "As a role model for so many women, I always try to share the message that they mostly have to feel confident. That's why I'm beyond shocked to read such a wrong message shared by such an important newspaper."
"Different is beautiful. Happy is beautiful. Don't let others bring you down or tell you who you are, ever," she concluded.
In the days since, her positive words have been met with an outpouring of support from fans, praising her honest message. Though the newspaper has reportedly changed the headline and angle of the story, Ferragni has certainly lost no sleep worrying about critics, having previously stated that she has no qualms speaking her mind.
FOLLOW US ON FACEBOOK FOR MORE FOX LIFESTYLE NEWS
"I am exactly the same on and off social media. People are always surprised that I am nice and funny when they meet me in real life, they expect me to be a b----," she once told The Guardian
Just days ago, Victoria's Secret model Candice Swanepoel made a similar cry against body-shamers who had nothing but mean things to say after she flaunted her beach body soon after welcoming her second child.
"I don't have to hide my stomach just because people have unrealistic standards of women. We create life. What can you do? Ladies we are all in this together be kind to each other," Swanepoel declared.