Hundreds of golden retrievers gather in Scotland for breed's 150th anniversary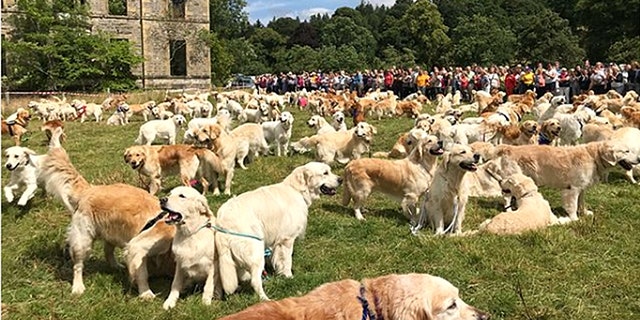 Now those are some good dogs.
Last week, a group of 361 golden retrievers gathered in Tomich, Scotland at the breed's "ancestral home" to celebrate the 150th anniversary of the founding of the dog. Coordinated by the Golden Retriever Club of Scotland, goldens of all shapes, sizes, colors and ages gathered at Guisachan Estate, where the first litter of pups was born in 1868, BBC reports.
Club chairman Doreen McGuan told Metro that the event was a "roaring success"
"We've gone up from 188 golden retrievers 10 years ago at the 2006 gathering to 222 in 2016 and now, today we got 361. It's appropriate we've beaten our record on the big anniversary," McGuan said.
BRITAIN'S 'MOST PAMPERED' DOG 'OWNS' THREE CARS, A BOAT AND 65 OUTFITS
According to the outlet, the first litter of the beloved breed was born at Guisachen Estate estate to landowner Dudley Majoribanks, known as Lord Tweedmouth. According to BBC, Lord Tweedmouth wanted an athletic dog "capable of swimming significant distances to retrieve wildfowl that had been shot." Crossing a wavy-coated retriever named Nous with a Tweed water spaniel called Belle on his Glen Affric area property, the rest is history.
Today, the golden retriever remains one of the most popular breeds in the world, and is the third most popular breed in the U.S., according to the American Kennel Club. Favored for their intelligence, obedience, friendliness and playful demeanor, the pups were reportedly on their best behavior at the special event.
"Not one bark in these dogs," McGugan told Today of the massive gathering. "It was quite exciting."
FOLLOW US ON FACEBOOK FOR MORE FOX LIFESTYLE NEWS
Meanwhile, the dogs weren't the only merrymakers in attendance — the owners and spectators thoroughly enjoyed the "pawty," too.
"It was a lot of pet owners who came just to join the fun," McGuan recalled of the festivities. "People didn't realize that it all went back to this and that there is a place to go to commemorate (their golden retrievers)."
Celebrations included a breed championship show, formal dinner, and of course, plenty of puppy loving. And by the looks of the photos, a pawesome time was had by all.