How to go 'ecosexual' and embrace your love for Mother Nature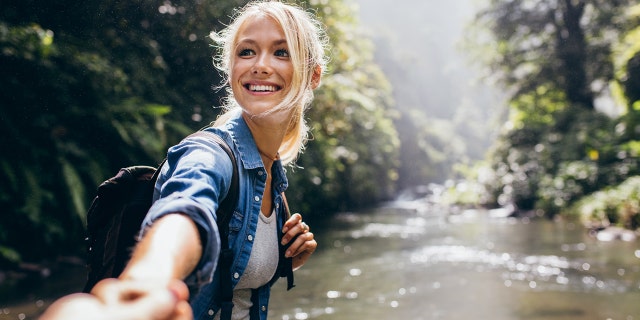 Whether you've been bickering with your partner or healing a broken heart, it may be time to take a walk: not down another traditional path, but rather, into the loving arms of Mother Nature.
Beth Stephens, Ph.D., and Annie Sprinkle, Ph.D., are authors, performance artists and, perhaps most interestingly, experts in the field of ecosexuality.
THE SURPRISING REASON WHY PEOPLE IN THEIR 20S CHEAT, ACCORDING TO A NEW STUDY
Working to bring more light to this niche, they explained to Women's Health that the orientation can be understood simply: "You don't look at the Earth as your mother, you look at it as your lover," they said.
And if Stephens and Sprinkle are to be believed, there's nothing confusing or intimidating about ecosexuality at all.
First, it's more common than you'd suspect. According to the pair, about 15,000 individuals worldwide consider themselves to be ecosexual, while also identifying with traditional sexual orientations. "Anyone can be ecosexual," said Stephens and Spinkle, explaining that being an ecosexual can mean merely "acknowledging that the world around us is part of our sexual identities and experience."
THESE 'HEALTHY' HABITS MIGHT ACTUALLY KILL YOU
Second, ecosexuality is rooted in environmentalism. If you love the Earth, you want to do your part and take responsibility for its care. Sharing a mutual relationship with the Earth is critical, they noted, not one where you continuously take. From lowering stress to strengthening physical health, spending time outdoors has long been proven to better the mind, body and spirit.
Third, having sex is just fine. As people are part of nature, cherishing our close connection with the planet can even help boost pleasure, the pair said. Working to reduce the carbon footprint in the lives of those you love and limiting the chemicals you intake increases overall wellness, too.
Finally, as with anything else, ecosexuality can be embraced to varying degrees. Stephens and Sprinkle note that you decide how far you're comfortable taking it, whether you give the planet some love by gardening, swimming in a pond or recycling.
FOLLOW US ON FACEBOOK FOR MORE FOX LIFESTYLE NEWS
Just like the bind of a conventionally loving relationship, one makes a conscious commitment to connecting with and caring for something bigger than yourself — in this case, the Earth — when embracing an ecosexual lifestyle.