Hillary Clinton's favorite power pose is on the yoga mat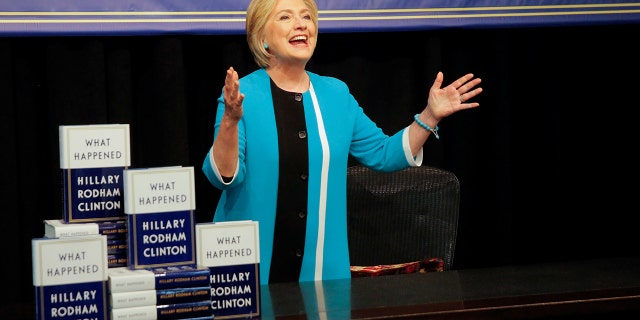 In the wake of her 2016 presidential defeat, Democratic nominee Hillary Clinton has cited long walks in the woods, organizing her closets and sipping a little white wine as routes to solace. In promotion of her memoir "What Happened," released September 12, Clinton reveals that she's found a new source of strength – and it's on her yoga mat.
In an interview with People, the former United States Secretary of State enthusiastically describes herself as a beginner yogi.
BILL AND HILLARY CLINTON'S OLD SUMMER GETAWAY SELLS FOR $29 MILLION
"I'm still working on the basics!" she said. "Warrior II is my favorite. It doubles as a great power pose."
In the memoir, Clinton champions the benefits of yoga breathing exercises – especially the calming effects of alternate nostril breathing – as a preferred method of healing post-election. When friends suggested she try Xanax or therapy, Clinton writes "that wasn't for me. Never has been."
MATT LAUER CONFRONTS HILLARY CLINTON ON LIVE TV
According to Yoga Journal, the Warrior II pose in particular is great for strengthening the legs and upper body while increasing stamina and relieving backaches, which may seem ideal after months spent on the campaign trail.
FOLLOW US ON FACEBOOK FOR MORE FOX LIFESTYLE NEWS
Further, when asked what it's like to not be perfectly camera ready with her outfit, hair and makeup every day, she exclaimed "It's liberating!"