Firefighter gets called to emergency mid-haircut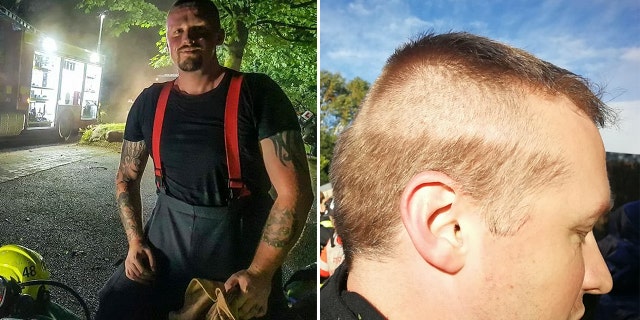 This hilarious photo shows a firefighter who arrived for an emergency with half his head shaved after being called out during a haircut.
Firefighter Joe Cartwright was getting a short back and sides but had to jump out of the barber's chair mid-trim when his pager went off.
Much to the delight of Cartwright's colleagues, from Buckfastleigh Fire Station in Devon, England, the 31-year-old turned up with a stripe of hair shaved off around the sides.
ANTHONY BOURDAIN'S FORMER NEW YORK CITY CONDO DROPS IN PRICE
"It was only five minutes in, she'd just started cutting the sides," he said. "The call was to some bales of hay piled up next to a barn that were smoldering. They get very hot this time of year and sometimes they self-ignite. I ran out of the barber's with tissue still hanging out of my t-shirt after taking the apron off."
Cartwright has been a firefighter for two and a half years – on call for 84 hours a week while also working his day job as a student paramedic.
He said his colleagues were delighted when he turned up with his unusual do.
"Some of the older ones thought I was trend-setting and it was some modern new look," he said. "When I told them what had happened they said, 'Oh my God I thought you'd just got an [unfashionable] haircut.' My boss just thought it was hilarious, he laughed and laughed. I'll never live it down."
FOLLOW US ON FACEBOOK FOR MORE FOX LIFESTYLE NEWS
Luckily the situation was resolved safely and Joe was stood down – he went straight back to finish getting his trim.
In a statement, Buckfastleigh Fire Station said: "To be a retained firefighter takes a certain type of person, to respond to your alerter 24 hours a day, seven days a week takes dedication, stopping what you're doing no matter what. However leaving a haircut half-way through when your alerter goes off is on another level."