Country singer Maren Morris claps back at people for criticizing her crop top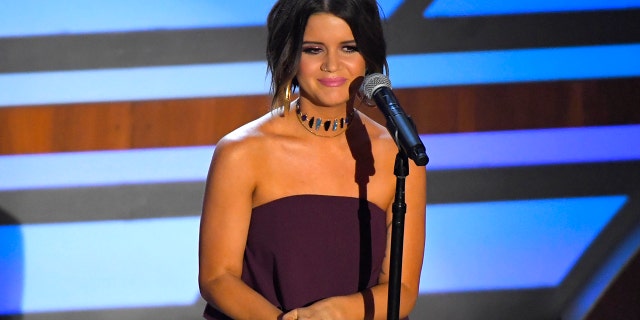 Maren Morris has a message for anyone who wants to criticize what she wears.
The country singer clapped back at people who shamed her for wearing a crop top, which some deemed "too revealing."
In a photo posted to Twitter, Morris is seen posing with her fiancé in a midriff-baring sparkly bandeau. Alongside the photo, she added a caption addressing the haters. "Hey, while prudes are bitching about my clothes, let's make babies. :)"
MODEL REPOSTS CRUEL COMMENT ABOUT HERSELF TO SHED LIGHT ON BODY-SHAMING
Morris sent out another tweet regarding the issue, explaining how she's tired of people remarking on what she chooses to wear. "Honestly, I'm over the slut-shaming that goes on here. I'm a self-sufficient woman who loves her body. Get over it, thanks," she wrote.
Fans were quick to offer their support, calling the Grammy-winning singer powerful, accomplished and hard-working.
Morris isn't the only celebrity to tackle body-shaming head on. "Modern Family" star Ariel Winter — who is frequently criticized for wearing shorts and tank tops — wrote an impassioned Tweet demanding people to "leave women alone."

FOLLOW US ON FACEBOOK FOR MORE FOX LIFESTYLE NEWS
"I'm not a whore because I wear shorts and tank tops. I'm a normal girl. Also, I'm not 'squeezing' into anything. My shorts fit me and everything I'm doing is just fine," she continued. "Please leave young women alone. We're just living our lives. It's really troubling that we even have to deal with this kind of stuff nowadays. Please stop criticizing everything everyone does!!!!! Rant over!"