Coffin-shaped pool float is morbid new trend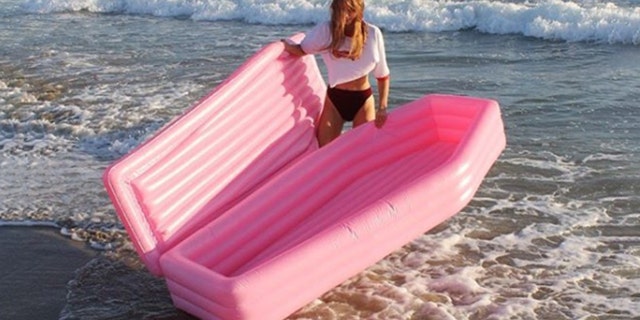 Goodbye unicorns, swans, pizza slices and flamingos. With this ghastly new pool float, you can sleep with the fishes.
A millennial-pink, coffin-shaped pool float is the new summer must-have, according to the internet. Designed by Andrew Greenbaum and Ian Felton, the oversized float has raised edges and a removable lid to allow you to rest in peace without any watery disturbances.
The design duo came up with the idea to create the float three years ago. They designed a mock-up of the float — and when the images gained traction on social media, they decided to actually go through with it.
Greenbaum and Felton are launching a Kickstarter campaign this week to help fund their morbid venture.
Shoppers can sign up for notifications about the coffin-shaped float on Pom Pom Floats.