California panel working on new, more diverse studies framework for its schools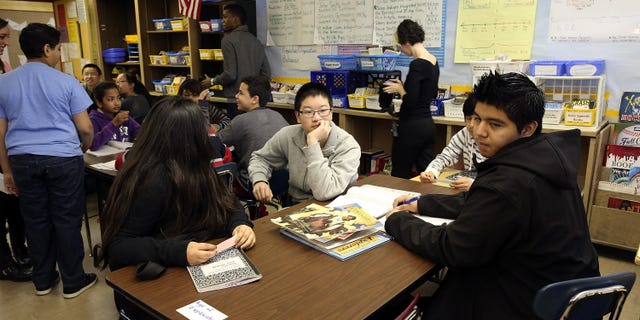 NEWYou can now listen to Fox News articles!
SAN FRANCISCO (AP) – How do you teach the history of the world in California schools, where nearly two-thirds of students are Latino or Asian, many from newly immigrated families?
That's the challenge facing a California panel charged with establishing a new history and social studies framework for the state's 6.2 million public school students.
On Thursday, the Instructional Quality Commission is scheduled to consider whether to forward a proposed plan to the California Board of Education. The framework will guide publishers in choosing material for textbooks. It was last overhauled in 2000.
Debate about the plan over the past decade has been painstaking and emotional, peppered with testimony from ethnic groups that want something different in the way their people are presented in textbooks and discussed in classrooms.
For example, a Hindu-American group has squared off against scholars, protesting the substitution of the words South Asia for India and arguing that the framework does not use modern geography to describe other ancient civilizations.
People of Japanese descent have argued against including mention of Asian "comfort women" enslaved during World War II. They say the facts are in dispute.
Other groups simply want more about what their people endured such as the killing of an estimated 1.5 million Armenians under the Ottoman Empire a century ago and the Bataan Death March in the Philippines in 1942, when 10,000 Filipinos and 750 Americans died on a forced 60-mile walk to prison.
"It's about people's stories and for so long, the stories have been narrowly told, so when there's an opportunity to develop a new framework, we want to make sure they are accurate stories," said Eric Heins, president of the California Teachers Association.
"It creates a much richer narrative and story about what makes California so unique in the United States," he said.
California has the largest K-12 population in the country, so changes in its textbooks often prompt revisions in other states. California's diverse student population is 53 percent Latino, 25 percent white, 12 percent Asian or Pacific Islander, and 6 percent African American.
Educators say they're not surprised by the passionate input from the public about the textbooks but add that there's not enough classroom time to cover all the material.
Bill Honig, chairman of the History-Social Science Subject Matter Committee, said the panel spent hours taking testimony from 90 people in March and considering 1,500 suggestions for the framework.
"We have people from every part of the world," he said. "There's just not enough space to do justice to all these things."
Several advocacy groups are expected to travel to the meeting in Sacramento to make their case before the 18-member advisory commission.
They will include the Hindu American Foundation, which opposes recommendations by the South Asia Faculty group to replace the word "India" with "South Asia" in some places to describe the region that now includes Pakistan and Nepal.
Citing its own scholars, the foundation also argues for more balanced descriptions of the caste system and the role of women in ancient India in lessons for 6th and 7th graders, some of whom are Hindu Americans. Hinduism is the predominant religion in India.
"This is a document for young students, whether it's kindergarten or up to high school, students who are very impressionable or confused or subject to be confused by their identities," said Samir Kalra, a senior director of the foundation.
Critics say the foundation and its supporters are trying to gloss over some aspects of history. However, the revised guidelines are a long-awaited success for others.
The proposed framework calls for the subject of Asian "comfort women" to be taught in high school "as an example of institutionalized sexual slavery, and one of the largest cases of human trafficking in the 20th century."
Opponents from Japan and California flooded the department with emails and petitions, saying the women were paid prostitutes, and that any force used to recruit them was by rogue soldiers, not the Japanese military. They expressed fear that children of Japanese ancestry will feel shame or be bullied.
Phyllis Kim, executive director of the Korean American Forum of California, said it's critical that students learn the lessons.
"It is important to hold the state body accountable as well as teach history," she said.
Cecilia Gaerlan, executive director of the Bataan Legacy Historical Society in Berkeley, has sought teaching revisions to describe the march that her father never talked about.
She would also like more about the bravery of the soldiers who defended the Bataan peninsula for three months, without being supplied food, water or reinforcements and derailed the timeline of the Japanese military.
"I never knew the context: that they died from hunger and disease because they were abandoned," she said.