California overwhelmingly repeals English-only law, opening door to bilingual education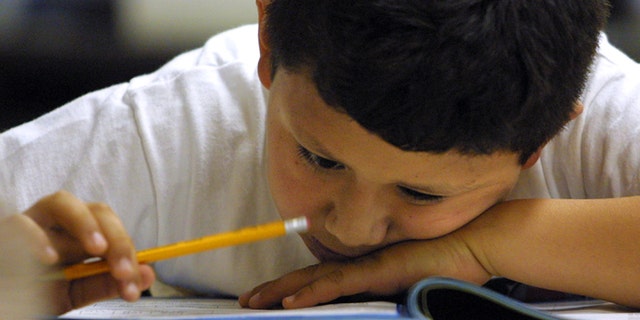 With a chance to turn back the clock to before 1998, California voters have opted to return multilingual education to the state's schools.
California voters on Tuesday overwhelmingly repealed a nearly two-decade-old law that limited bilingual education in public schools. Proposition 58 had about 73 percent support with 3.5 million votes counted.
The ballot measure essentially overturned legislation passed in 1998 that mandated all students, including first-generation immigrants, be taught in English.
That 1998 measure, Proposition 227, made it so that all schoolchildren in the process of learning English had to take all non-language courses in English – a single-language immersion program – rather than a bilingual education in which subjects like math or history are taught in languages other than English.
But if the numbers hold, Proposition 58 will restore the option of bilingual education.
"Kids in immersion programs might learn English, but they drag way behind in material and curriculum," Cheryl Ortega, teaching director of bilingual education for the union United Teachers Los Angeles and a supporter of the new bill, told Fox News Latino before the election.
"If students start learning material in their own language, they capture it more rapidly than if taught in words they don't understand."
Not everybody feels that way. Ron Unz, the Silicon Valley tycoon who initiated and bankrolled Proposition 227, worked to defeat the new measure, arguing that education had improved because of the 1998 law.
In endorsing California voters to vote yes on Proposition 58, the Los Angeles Times said, "There's a difference between bilingual education done badly and bilingual education done right."
What the state had before 1998, it argued, was poorly executed. Under the new ballot measure, the Times said, "Parents would be more empowered under the initiative to have a voice in their children's education than they were under the old system, and they're unlikely to settle for programs that aren't teaching their children English skills."
It is a matter of some importance as the number of English language learners in California is sizeable. They make up 22 percent of the state's students, but are among the lowest performers on state tests.
Studies have found that each language group has different levels of academic success. Latinos make up 84 percent of English language learners and are performing poorest, possibly due to access to supplemental help outside school.
Ortega believes that giving schools and parents flexibility in how they teach their kids, rather than requiring a one-size-fits-all model, may help level the playing field.
"There is no downside of being multilingual," she said. "Why would someone not want their child to know more than one language? Except that people think they won't learn English which is not correct."
Includes reporting by Soni Sangha and The Associated Press.
Like us on Facebook
Follow us on Twitter & Instagram