Being on Santa's List at Work: Were You Naughty or Nice?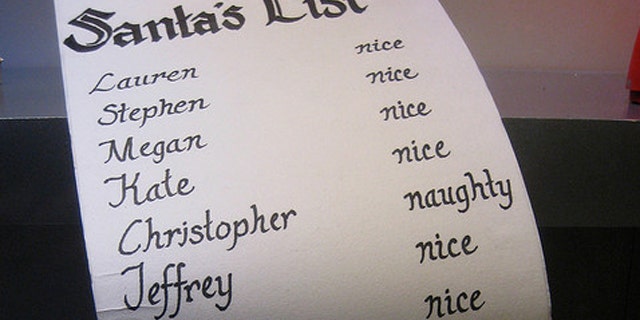 This is that time of year when blackmail works on children. If you're not good, Santa won't bring you what you want… OK, even if you've never used the tactic (or had it used on you), you know what I'm talking about!
While normally I'm not a fan of blackmail, it's important for us to recognize that, even if they don't say it out loud (or even consciously admit it), in the workplace, we are all being judged on how we act.
And, depending on what list we're put on, we're given more responsibility, more trust, and more rewards. Interestingly, the actions that will put you on the "naughty" or "nice" list as an adult in the workplace aren't that different than the same things that put you on those lists as a child!
Let's take a look…
Play Nice With Others
In the workplace, this means you get along with others on your team, and on your client's team. You accommodate your client's needs, and overlook the times when she gets testy and throws a fit. You share your ideas, and you share your resources. You work with others in your department and on your team, and pitch in to help when needed.
We're on a larger 'playground,' but to the extent we create harmony in our industry and are respected as someone who can get along with others – even those difficult to deal with – we are given respect, and allowed to lead teams and meet with important contacts.
Don't Break Things
When we misuse resources in the workplace – whether relationships, office supplies or our expense account – we 'break' more than just the item itself. We also breach the trust and respect we may have gained from others. And this can be very difficult – or impossible – for our company, or our department, or ourselves, to get back.
When we misuse what's been given to us, this can also have far reaching consequences for our company as a whole. How we handle the little things is so important. If we can be trusted to handle the small stuff, then we are more likely to be trusted with the larger items.
Take on Responsibility
When we do 'chores' without being asked, go above and beyond the required actions, and show that we are willing to do more than what is required, we are truly valued. As a child, this meant that you really understood the burdens of your parents, and could be counted on to help out the family as a whole.
The same goes in the workspace. Interestingly, if we only do the minimum, and especially if we do it grudgingly, we are often put on the "naughty" or at least the "not nice" list. But when we do more, and do the basics happily, we are appreciated.
Taking on responsibility also means thinking about what's truly needed, and taking those extra steps. In addition to cleaning the bathroom, and taking out the trash, maybe you can start dinner, too! As an adult, you'll need to figure out what the analogous actions would be for YOUR workplace, but you get the idea…
Don't Make (too many) Mistakes
Everyone drops the ball once or twice. Especially if you're doing extra, it can be easy to try something outside of your area of expertise, and it may not go exactly as you'd like. But if your work product is consistently shoddy, you won't be trusted, nor get the plum jobs.
In short, if you are someone in whom your clients and supervisors have faith and can trust, you are on the "nice" list. If not, well…
Give yourself an honest assessment. Which list are you on?
Aurelia Flores is Senior Counsel at a Fortune 500 company and former Fulbright Fellow who graduated from Stanford Law School. Her website, PowerfulLatinas.com, offers stories of success, along with resources and programs focused on Latino empowerment.
Follow us on twitter.com/foxnewslatino
Like us at facebook.com/foxnewslatino