Autistic 5-year-old in New York mistakes bride for Cinderella, Internet wants to send her to Disney World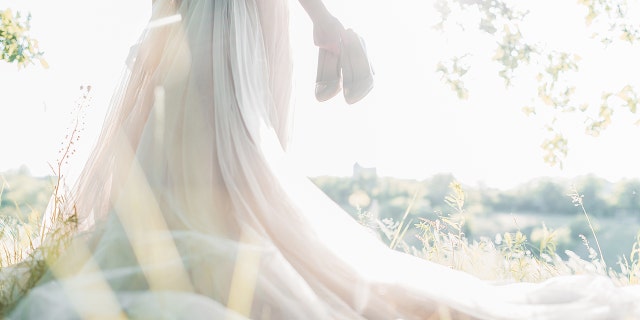 A little girl in New York mistook a bride for Cinderella and photos of the adorable encounter have since gone viral.
Newlyweds Olivia and Caleb Spark were taking photos in Akron Falls Park after their wedding ceremony when 5-year-old Layla, who's autistic, caught sight of the bride in her white dress.
"She just goes running over, arms wide open, 'Cinderella, Cinderella,'" Jessica Lester, Layla's mother, told WAFF48.
"She kept calling them Cinderella and Prince Charming. She even called a few of the bridesmaids Ariel and Belle," Lester told Totally Buffalo.
ADRENALINE JUNKIE BRIDES LIGHT WEDDING DRESSES ON FIRE AFTER WALKING DOWN THE AISLE
Layla, who loves princesses, told Olivia she was beautiful and wanted to touch her dress, Caleb's mom, Angela Spark, wrote in a Facebook post about the encounter.
The wedding photographer, Nicole Wickins, captured the moment between Layla and the "princess."
"I was really caught off guard because there's a little girl that none of us had known, so I wasn't sure if I should take pictures. But it kind of just felt like the thing to do," Wickins said.
Olivia told WAFF48 she was "flattered" and that the encounter made her day "absolutely more amazing than what it already was."
Layla's mom said Olivia was "amazing" with her daughter and was "the epitome of what a real-life princess would be."
"She took the time out of what she was doing two different times to talk with Layla. And trust me that made her so happy. She watched them drive away and just kept saying 'Bye Cinderella, have fun at the ball.'"
FOLLOW US ON FACEBOOK FOR MORE FOX LIFESTYLE NEWS
Layla's identity was a mystery until the photo went viral. Now, Olivia and Layla have formed a new friendship and reunited in the park near a structure resembling Cinderella's pumpkin carriage.
"We weren't sure if Layla would recognize Olivia without her gown, but as soon as she pulled up, she yelled, 'Cinderella is here!'" Wickins told Yahoo Lifestyle.
A GoFundMe page has since been started to help send Layla and her family to Disney World, where she can meet all the other princesses.