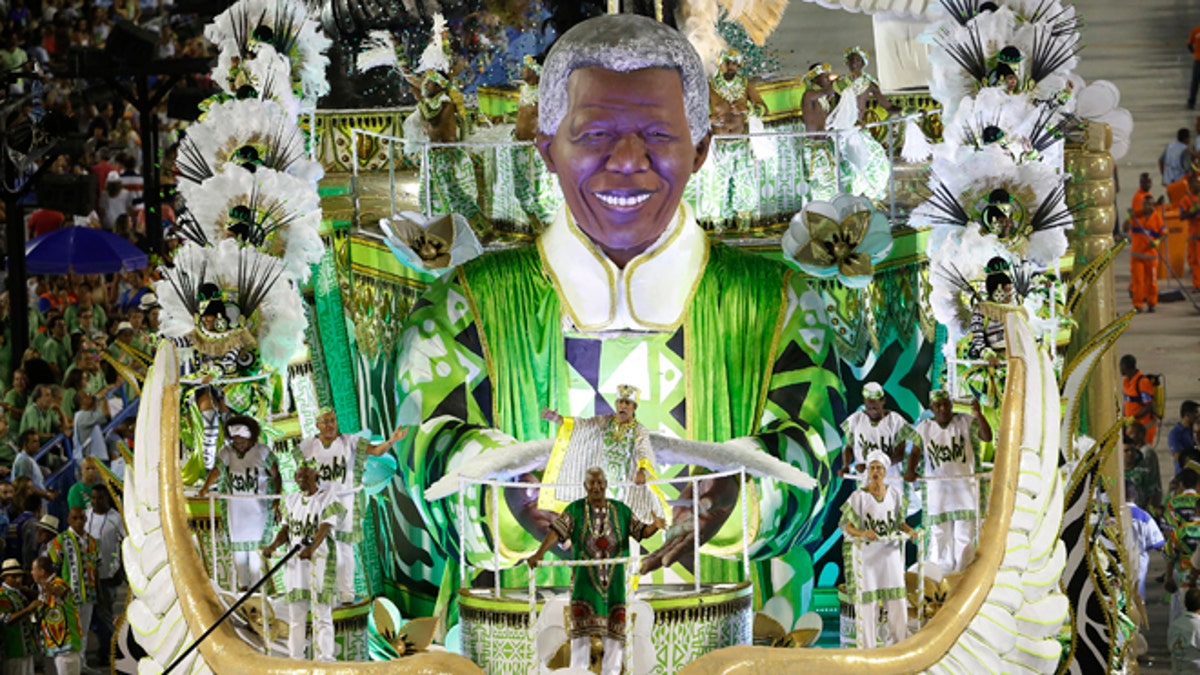 RIO DE JANEIRO (AP) – Racial pride and the fight against racism in Brazil were the themes of samba group presentations and street parties on Monday as Rio de Janeiro's flashy parades entered their second night of over-the-top festivities.
Some samba groups put together dance numbers to honor Afro-Brazilian heritage, and one built a giant Nelson Mandela float. The float was meant to remind people of his fight for equality, while calling for more racial integration in this South American country, which has more blacks than any nation aside from Nigeria.
On the second day of the Carnival shows, thousands of performers carpeted the entire half-mile (800-meter) street with fluorescent orange-and-yellow costumes and Halloween-like floats featuring anything from tarantulas and Jack the Ripper to Michelangelo's David and the Maracanã Stadium.
Tens of thousands of people gathered on both sides of the imposing sambadrome to watch and sing along to the blasting music.
Top-tier samba group Imperatriz Leopoldinense said it was inspired by an incident of racism in soccer, when a banana was thrown at Barcelona star Dani Alves during a match last year against Villarreal. The Brazilian Alves ignited a movement against racism in soccer after he was seen cooly picking up the banana and eating it before taking a corner kick.
Imperatiz, in its samba parade, alluded to that incident with dozens of performers playing black-and-white harlequins inside peeled bananas.
"People think that discrimination in Brazil is a thing of the past," said Andre Bonatte, who helps coordinate cultural affairs for Imperatriz. "But we are here to say it is not like that. There are still many racist displays in our society."
Advocates say blackface makeup during Carnival is one such display. Some people have complained this year of Carnival street parties where people use blackface, including one called "Luxury Maids" in which white men wear black makeup and dress as servants.
"It is shocking that something so explicitly and ridiculously racist is being treated as a funny tradition worth preserving," wrote columnist Jarid Arraes, for Forum, an online magazine.
On Monday, animals of the savanna and pieces of tribal art were recurring props and costumes on the marathon parades, which began Monday night but extended through the wee hours of Tuesday.
An entire block of performers also honored the U.S. and civil rights leader Martin Luther King, Jr. by holding flags with his image and wearing red- and-blue hats with an eagle. Other members of the troupe held photos of black Brazilians known as samba icons.
Felipe Ferreira, a professor who heads the Carnival Reference Center at Rio de Janeiro State University, says the origins of the samba groups stem from people brought as slaves from Africa who thought of mixing their customs of playing drums and tambourines in the streets with the more extravagant European parties.
"The aspect of racial integration and the meeting of different cultures was something that samba schools initially promoted," said Ferreira. "This seems to be a return to the ideal."