Are Christmas trees a fire hazard? Tips to keep your home safe from a blaze this holiday season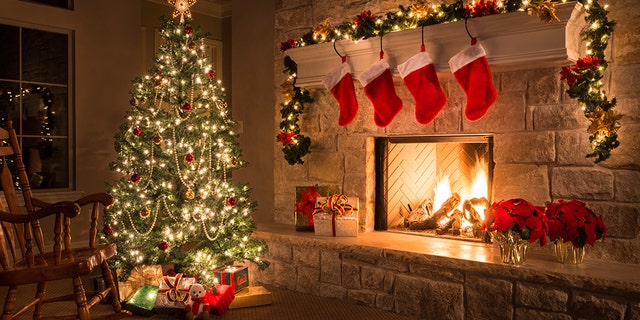 This holiday season, leave the chestnuts for roasting on an open fire instead of your Christmas tree.
While the National Fire Protection Association (NFPA) says Christmas tree fires are not particularly common, "they're much more likely to be deadly than most other fires" when they do occur.
One out of every 32 reported Christmas tree fires in a home result in a death, according to the NFPA. In comparison, only one out of every 143 home fires results in a death overall, according to the U.S. Fire Administration.
From 2010 to 2012, 10 people died and $17 million of property damaged in fires that started with the Christmas tree, according to the NFPA.
Read on for a few safety tips to prevent your evergreen from catching fire.
Placement
When figuring out where your Christmas tree should stand for the holiday season, keep in mind it needs to be at least three feet away from heat sources, such as radiators, lights or fireplaces, according to an NFPA fact sheet. Space heaters, too, should be kept away from trees.
A quarter of Christmas tree fires in homes are the result of a heat source too close to the fir, officials have said.
Christmas trees should also not block any entrances.
FRESH CHRISTMAS TREES CAN BE CRAWLING WITH SPIDERS, MITES AND OTHER BUGS: WHAT YOU NEED TO KNOW
Decorations and lighting
While flickering candles are a favorite decoration around the holiday season, they should not be placed in or near trees. Candles cause two out of every five home decoration fires, the U.S. Fire Administration warns.
As for lights, the NFPA recommends using those with a "label of a recognized testing laboratory." The lights should also specify they are for inside use if the tree is indoors.
Worn chords and loose light bulbs should also be replaced as they could become hazardous. A quarter of every Christmas tree fire in a home is the result of electrical issues, according to the NFPA.
After the presents have been opened, Pinestead Tree Farms in Minnesota encourages people to immediately remove wrapping material – particularly tissue paper – from under the tree. The material can be "effectively a torch if somehow ignited."
Always make sure to turn the lights off if you're not present, experts suggest.
"Regardless if you're at work or even sleeping, never leave your Christmas lights out of your sight," expert Pol Bishop said.
Tree maintenance
After you've picked out your Christmas tree, cut about 2 inches from the base of the trunk, the NFPA says. Experts also recommend buying a fresh tree; those in stores could be older and well on their way to drying out.
Pinestead Tree Farms suggests nestling a humidifier in with the presents to prevent a tree from drying out faster.
Water should be added to the tree stand every day. An unwatered Christmas tree set an entire room ablaze in less than 20 seconds, according to an NFPA video.
ARE CHRISTMAS TREES SAFE FOR DOGS AND CATS? WHAT TO KNOW ABOUT THE POTENTIALLY HAZARDOUS HOLIDAY STAPLE
Gently shake the tree to see if any needles fall off; if many do, the tree isn't getting enough water.
Once the tree begins to dry out, it should be discarded. Some communities may have a recycling program for unwanted trees after the holidays.
"Dried-out trees are a fire danger and should not be left in the home or garage, or placed outside against the home," the NFPA says.
To figure out if your tree is too dry, test the needles. If they immediately snap when bending them, it's time to throw the tree away, according to Pinestead Tree Farms.