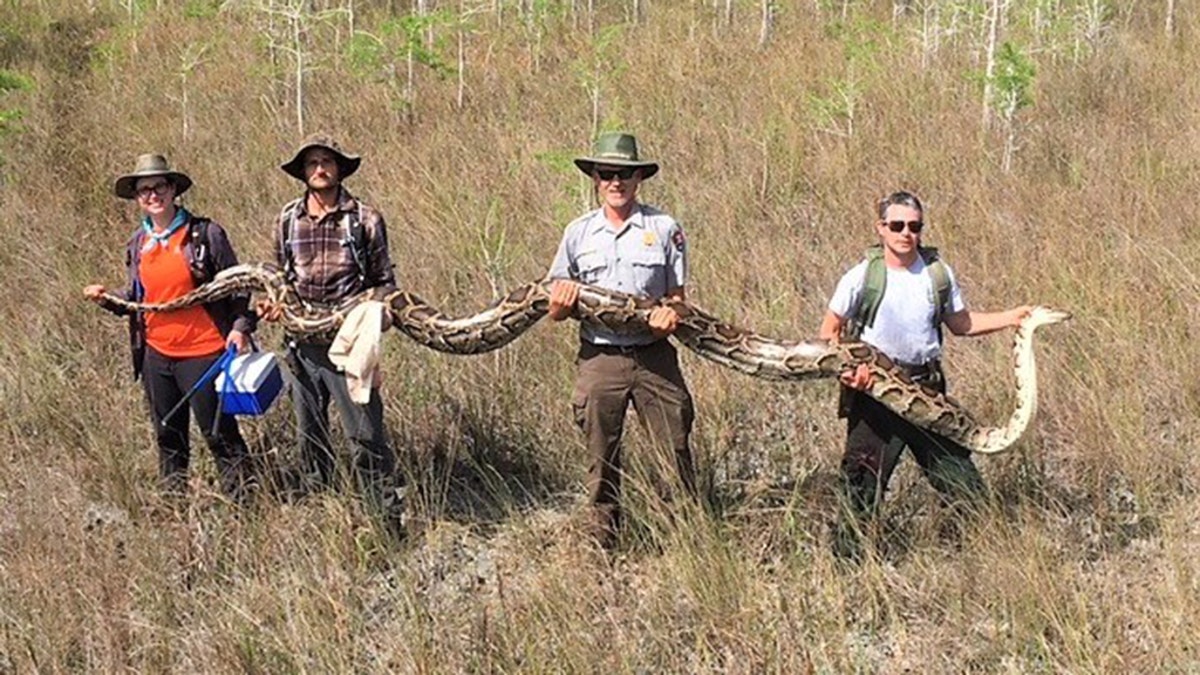 A 17-foot-long female python, the largest ever captured at Big Cypress National Preserve in Florida's Everglades, took four people to hold it. A team of researchers posted a breathtaking photo of the snake on the Big Cypress Facebook page,
Big Cypress said the snake sent a new record for the area.
HYBRID PYTHON THREAT HAS SPREAD BEYOND FLORIDA EVERGLADES, DNA STUDY SHOWS
The python weighed 140 pounds and contained 73 developing eggs. Rita Garcia, a spokeswoman for Big Cypress Preserve, said the eggs were destroyed and the snake was euthanized.
"She is the largest python ever removed from Big Cypress National Preserve and she was caught because of research and a new approach to finding pythons," the Preserve said. In 2017, a python measuring 17 feet and one inch and weighing 132 pounds was captured in the Everglades
Researchers use male pythons wearing radio transmitters to find breeding grounds. Once females are located they are removed with the idea of controlling the invasive species. Pythons are native to Southeast Asia, Africa and Central and South America.
The National Park Services defines invasive species as "having the ability to thrive and spread aggressively outside their natural range." Burmese pythons were introduced to Florida through escaped or released pets, and now they are a presence in the Everglades, feeding on native wildlife. Some pythons grow as much as 20 feet long.
In addition to removing pythons from Big Cypress, researchers learn how the snakes use the area.
FLORIDA AUTHORITIES CONSIDER POSSIBILITY OF SUPER SNAKE EMERGING IN EVERGLADES
"The Resource Management staff would like to thank all of the Preserve divisions that have supported the python program," Big Cypress said in a statement. "Their support, along with the tireless efforts of our partners at the U.S. Geological Survey (USGS), have allowed us to locate and remove several breeding female pythons over the past few months."