A Whole New Adventure For U.S. Soccer Fans Dealing With Travel Woes During World Cup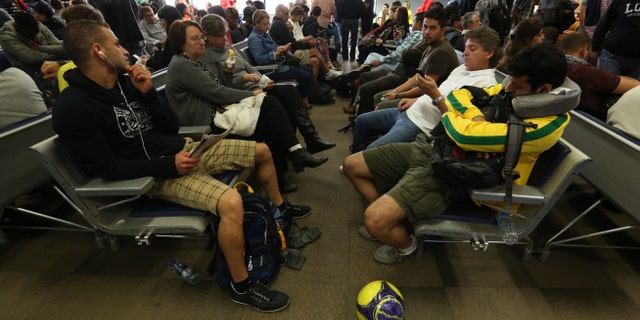 NEWYou can now listen to Fox News articles!
Natal, Brazil – On a flat swath of land cut out of the surrounding jungle, the Natal International Airport is a brand new, gleaming glass-and-steel structure about 15 miles from the center of this northeastern Brazilian city.
The airport – its automatic doors opening for the first time only three weeks ago – was meant to be a symbol of progress, the first thing travelers from across the globe saw when arriving in the city for the 2014 World Cup.
Instead the building became a one-terminal prison for hundreds of U.S. soccer fans trying to leave the city following Team USA's 2-1 win over Ghana on Saturday.
For a number of reasons, dozens of fans missed their flight, leaving them stranded in a city already bracing for the next arrival of tourists for Thursday's match between Japan and Greece.
"This a very new airport and it is very far from where people are staying for the World Cup," a TAM Airlines employee who asked not to be named told Fox News Latino. "It's a whole new adventure here."
While generally praising the Brazilian people for their help during the World Cup, U.S. soccer fans – moving around either by planes, cars, bus or taxi – have bemoaned everything from potholed roads to and a lack of signs in English to poorly run airports and Brazil's infamous relaxed attitudes to seemingly all of life's little problems.
On a recent day in Natal, rattled airline workers from Brazil's major airline, TAM, desperately tried to ferry people through the check-in process for a flight to São Paulo as exasperated travelers anxiously waited in line.
Airline ticketing desks were hounded by marooned travelers trying to rebook flights to Rio de Janeiro, São Paulo, Manaus and back to the U.S., while giving airline agents a slew of excuses for why they missed their flights.
Among these excuses were poor road signage for the airport and for car returns, heavy traffic in the packed city and roads closed by the torrential downpours that have plagued the city in recent days. Local media reports said that the city had received more rain the three days before the U.S. game than it usually receives in a month, destroying dozens of homes, flooding roads and creating an even more chaotic environment for travelers to maneuver through.
"I tried to return my car and catch my flight but the signs were so bad that I couldn't find my way here," Rebecca Townsend, a journalist covering the U.S. team for an alternative weekly in Indianapolis told FNL. "On the bright side, I got a nice tour of the countryside."
Brazil's government airport management service, Infraero, estimated in 2009 that the total cost of revamping the nation's 31 airports for the 600,000 international tourists and 3 million local tourists traveling around the country during the World Cup would run to $2.6 billion.
Not hardly.
The country spent $1.3 billion alone on the new international terminal at São Paulo's Congonhas Airport - and only a quarter of the complex was completed by the start of the tournament – and $14 billion overall in projects related to the tournament.
While this Cup has been billed as one of the most geographically spread out in history (thanks principally to the remote Amazonian host city, Manaus) there are some cities close enough to drive between, like Rio de Janeiro and São Paulo as well as Natal and Recife.
"The drive from Recife to Natal might not have been the smartest thing to attempt," Marc Kellerman, a U.S. fan from San Jose, Calif., told FNL about the five-hour trip. "The driving is a hell of a lot more aggressive."
Besides the traffic, drivers and multitude of roads in Brazil – which range from10 lane highways leading into São Paulo to dirt paths that sometimes emerge in the middle of a major city – finding where to return that rented automobile is no easy feat.
In São Paulo, the rental car lots at the country's largest airport are located in a remote parking lot a 10 minute ride on a shuttle bus from the departure zone.
Natal mixed its rental area into the airport's general parking lot, much of which is still under construction. In any event, most rental car companies don't have signs up.
"The only reason I found where to return my car is because I pulled into the parking lot next to one of the company's trucks with their logo on it," Townsend said.
It's not just in the airports and on the roads where U.S. tourists are having problems with travels in Brazil.
While some Americans may be used to taxi drivers who induce nausea with their erratic driving in rush hour traffic, they're probably not used to having their driver climb halfway out the window to cheer for his nation's soccer team while carrying paying customers down a busy freeway.
"He had a little TV that popped up in his cab, so as he's driving, he's watching TV, making a phone call and yelling 'Brazil!' out the window," Kellerman said of one cab driver taking him and some friends to a FIFA event.
"At one point, as we were going along over half his upper body was out of the window yelling 'Go, Brazil!' [while looking] backwards as we were going 50 miles an hour down the highway."
Many U.S. tourists to Brazil have taken the travel woes in stride and said that the Brazilians have made a concerted effort to help travelers find their way. The country has volunteers in each city to help travelers in need, and many airport personnel have learned English in the run-up to the tournament.
"People here bend over backward," Kal Nekvasil, a U.S. fan waiting for his flight in Natal told FNL. "It's been one hell of a good trip."
And, of course, Brazilians make sure that everyone is up to date on any major World Cup developments or upsets.
TAM's flight attendants on one trip from Natal to São Paulo announced over the plane's loudspeaker: "Ladies and Gentlemen, we would to inform you that Chile has beaten Spain, 2-0."
Now that was something to get "upset" about.
Follow us on twitter.com/foxnewslatino
Like us at facebook.com/foxnewslatino