67-year-old woman loses 80 pounds, competes in 'Tough Mudder' race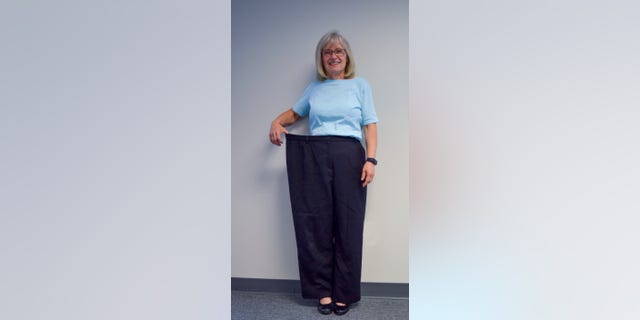 Terry Reuer thinks that determination is the key to success.
Reuer made headlines earlier this week after revealing she dropped nearly 80 pounds during the last two years and successfully completed a Tough Mudder race in June.
The 67-year-old now weighs 120 pounds but was once 198. She told Fox News on Friday that she started her wellness journey by cutting out carbs, sugar and rice. But her initial goal wasn't necessarily to lose weight, she said. Rather, the Farmington Hills, Mich. resident just wanted to live a healthier lifestyle.
14 LAST-MINUTE HALLOWEEN COSTUMES YOU CAN PULL OFF WITH ONLY MAKEUP
"I'm one of six siblings, and the other five have significant health issues like diabetes, high blood pressure and high cholesterol. While I hadn't developed any of those things, I knew I would if I didn't change how I was eating," she said.
She also said her job encouraged her to better her lifestyle. Reuer is the CEO of Dryer Vent Wizard, a dryer vent cleaning service. She described her job as "high-stress."
"To keep doing it as I get older, I knew I needed to be in a better condition than I was two years ago," she said.
Just by changing her eating habits, Reuer quickly dropped 50 pounds. "When I started to lose weight, it was fun," she said.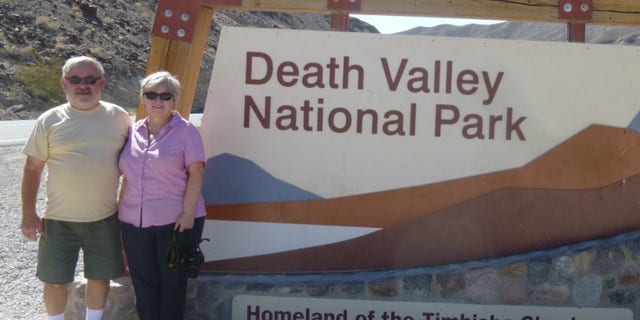 Even though she was thinner, Reuer said she still felt self-conscious about going to the gym at first -- wary of other gym-goers who might watch or judge her.
When she did start going, "I couldn't do push up or pull ups, and I was sore and tired," she said.
But Reuer was determined to get stronger-- eventually hiring a personal trainer to help her on her fitness journey. As she slowly built up her strength and stamina, people started to take note.
A month after she started working out, Reuer said that Jason Kapica, the executive vice president of Dryer Vent Wizard, asked her to take part in a Tough Mudder race-- a 10 to 12 mile endurance race where participants run, scale walls, climb ropes, and more. Kapica wanted to raise money for the Children's Burn Foundation, he told her.
At first, Reuer was hesitant to enter the competition.
82-YEAR-OLD FINISHES APPALACHIAN TRAIL, BECOMES OLDEST TO EVER COMPLETE HIKE
"I told him I've never done anything like that," she said. "I thought it was funny he even asked."
Reuer told Kapica that she would support him and the company would sponsor him-- but she wasn't going to take part.
But her outlook changed when she thought about the children she would be helping by participating in the race. While working with her trainer one day, Reuer made it official.
"My trainer looked at me and said, 'OK-- we have some work to do.'"
For the next nine months, Reuer went to the gym six days a week. As the race got closer, she went two times a day, six days a week.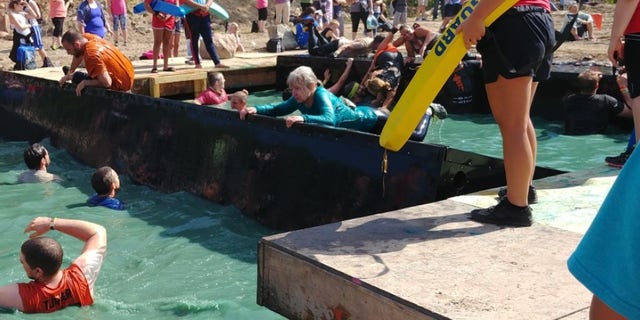 "I just kept thinking about trying to help these kids," Reuer said.
Before she knew it, it was race day.
"I remember thinking: 'What am I doing here?'" Reuer said. But all her pre-race jitters vanished after she starting running-- successfully taking on many of the obstacles even after a fellow racer told her she looked "too frail" to climb one of the walls.
"I may have white hair, but that's an assumption I would never make about someone," she said.
The race may be over, but that's not stopping Reuer from maintaining her fitness journey. Reuer is still working with a trainer and continues to go to the gym six days a week.
RESTAURANT BURGLARS CAUGHT ON VIDEO DRINKING $15,000 WORTH OF ALCOHOL, THROWING A DANCE PARTY
"I'm proud of myself. But I'm happier to see what's been happening around me," she said.
Reuer said her weight loss has inspired others around her—her husband and many of her employees have embraced their own wellness journeys and lost weight as a result.
In addition, her company now offers free personal trainer sessions to employees. Employees can also use an hour of their work day to go to the gym, she said.
"That has been the most fun thing and has made the proudest," she said.
As for her next goal? Reuer wants to tackle some of the Tough Mudder obstacles she wasn't quite strong enough to conquer the first time round, so she plans on participating in the race again this summer. Other than that, she wants to make sure she doesn't become part of the 65 percent of dieters who eventually return to their pre-diet weight.
FOLLOW US ON FACEBOOK FOR MORE FOX LIFESTYLE NEWS
"I'm not going to be part of that statistic," she said.
As for her advice to others who are thinking about taking on a similar feat?
"Find something outside of yourself to motivate you," she said. "You can do it, but you have to want it."