11-Year-Old Makes It His Mission To Find Rightful Owner Of Purple Heart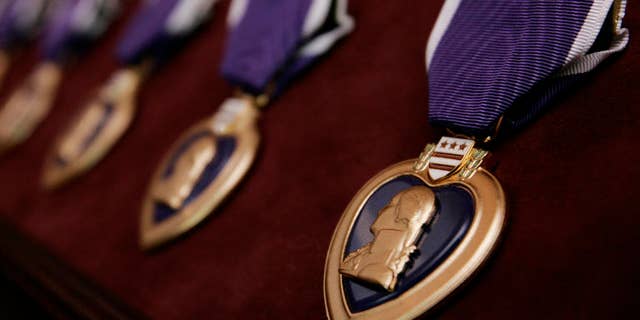 An 11-year-old Texas boy was rummaging through his grandfather's attic years ago when he found a rare item: a lost Purple Heart.
Jamyn Valdez then made it his mission to find the rightful owner – even though it took three years to track down the person who had left it behind decades before.
Last week, Valdez returned the Purple Heart and a United Nations Service Medal for Korea to the relatives of the late serviceman David Catlin.
Catlin never returned from Korea. The medals were given to his family, who told The Lubbock Avalanche-Journal that they were unknowingly left behind in a move about four decades ago.
"I didn't know he had medals," said Catlin's nephew, Ronald Reagan. "I just knew my mom said she thought she left stuff in the attic."
Valdez's grandfather, Joe Salinas, said he discovered the medals in the attic of his new home in 1975. Three years ago, Valdez found them and began searching for Catlin's relatives.
"Jamyn always takes an interest in military things and things like that," Salinas told the Avalanche Journal.
A story in the newspaper last year when Catlin's remains were returned for burial in nearby Lockney helped Valdez find Catlin's relatives. Then Reagan learned that Valdez, whose mother helped with the search, had the medals.
Reagan said his uncle joined the army as a high school student. Too young to enlist, his father signed paperwork giving his permission. Catlin shipped out for Korea in the late 1940s, according to Avalanche-Journal archives.
According to the 2012 story, the National Archives showed Catlin was 19 when he was taken prisoner by the Chinese on Dec. 2, 1950, with the 31st Regimental Combat Team known as "Task Force Faith."
For years, Catlin's fate remained a mystery. His family got a notice from military officials telling them he was missing in action. The family then heard from a friend and soldier who was in the prison camp with Catlin, who told Reagan's family he didn't remember Catlin walking out of the camp.
Reagan said his mother struggled when she heard that information.
"That's her brother," he said.
The family eventually received a letter saying Catlin's remains may have been recovered. Reagan said his mother was too emotional to provide a DNA sample but a cousin's DNA confirmed the remains were Catlin's.
Based on reporting by The Associated Press.
Follow us on twitter.com/foxnewslatino
Like us at facebook.com/foxnewslatino