Your Starbucks fix may contain a 'shocking' amount of sugar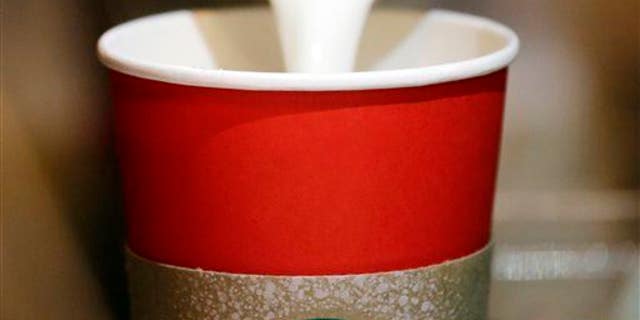 NEWYou can now listen to Fox News articles!
Have some hot beverage with your sugar. That's the roundabout finding of a UK health advocacy organization that discovered hot flavored drinks served by chains like Starbucks, McDonald's, and Dunkin' Donuts can contain a "shocking" amount of sugar—sometimes up to 25 teaspoons per serving, or more than three times the recommended daily amount for adults, per CNNMoney.
The Action on Sugar report analyzed 131 hot flavored drinks from UK chains—CNN points out nutritional info on company websites would make results similar in the US—and found that 98% of the tested beverages would get slapped with a "red" label for excessive amounts of sugar, with 35% of them boasting at least the same amount of sugar as a can of Coke (9 teaspoons).
"These hot flavored drinks should be an occasional treat, not an everyday drink," an Action for Sugar researcher warns. Starbucks claimed the worst of the bunch with its hot mulled fruit grape drink with orange, chai, and cinnamon—the 25-teaspoon suspect mentioned earlier.
A Starbucks rep says it is committed to cutting down by a quarter the amount of added sugar in its "indulgent" beverages by 2020 and notes that it "also [offers] a wide variety of lighter options, sugar-free syrups, and sugar-free natural sweetener" and makes all of its nutritional data public.
That doesn't sweeten the results for the Action on Sugar chairman, who says it's "yet again another example of scandalous amounts of sugar added to our food and drink," per CNBC.
(No one can figure out what Starbucks' newest drink even is.)
This article originally appeared on Newser: Hot Drinks May Have 3 Times the Sugar of a Coke
More From Newser